Ahead of Budget, PM Modi discusses macro blueprint with experts
Ahead of the Union budget for 2019-20, PM Narendra Modi on Saturday held a meeting with a group of 40 economists and industry experts organised by the government think-tank Niti Aayog.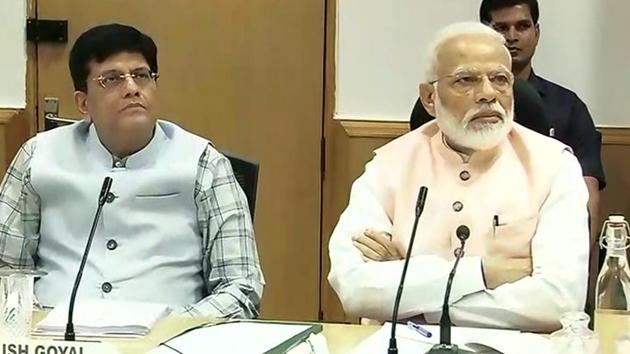 Updated on Jun 22, 2019 11:54 PM IST
Ahead of the Union budget for 2019-20 and amid concern over slowing economic growth, Prime Minister Narendra Modi on Saturday held a meeting with a group of 40 economists and industry experts organised by the government think-tank Niti Aayog.
The meeting, on the theme "Economic Policy – The Road Ahead," followed the release of data showing that growth in the fourth quarter of the 2018-19 financial year had slowed to 5.8%. According to Central Statistics Office data, growth in the Gross Domestic Product (GDP) for 2018-19 (at 2011-12 prices) was at a five-year low of 6.8%, compared to 7.2% in 2017-18.
"Had a fruitful interaction with economists and other experts on the themes of macro-economy and employment, agriculture and water resources, exports, education, and health. The inputs received were insightful and will benefit our growth trajectory," PM Modi wrote in a Twitter post.
Further opening of the banking and insurance sectors to foreign direct investment and speeding up the disinvestment process were among the focus areas of Modi's interaction with economists and industry experts, PTI reported, citing people it didn't name. During the interactive session, speakers made a case for "single minded pursuit" to achieve growth, the news agency added.
The period from 2019 to 2024 would be more transformative for India than 2014 to 2019, the PM said, according to a person who attended the meeting. People were emotionally connected to 75 years of Independence and Mahatma Gandhi's 150th anniversary, both of which will be marked in 2022, Modi was quoted as saying.
Reiterating an assertion that "the government has no business to be in business", Modi said the process of the government's exit from business would, however, be gradual.
The meeting was also attended by Union ministers Piyush Goyal and Rao Inderjeet Singh. Niti Aayog vice chairman Rajiv Kumar and chief executive officer Amitabh Kant,, and senior officers from the Union Government and Niti Aayog were present. Economists including Soumya Kanti Ghosh, Bibek Debroy, Nilesh Shah and Surjit Bhalla, and representatives of HSBC Bank, ICICI Bank and Credit Suisse were also in attendance.
"In the run-up to the Union budget discussions are held with economic experts each year. About 40 economic experts were called to share their views, inputs and expectations from the budget," a senior Niti Aayog official said on condition of anonymity.
The Union budget is scheduled to be presented by finance minister Nirmala Sitharaman on July 5 in the Lok Sabha. It will be first full budget of the National Democratic Alliance government's second tenure.
The fifth meeting of Niti Aayog's governing council chaired by the PM on June 14 had discussed rainwater harvesting, the drought situation and relief measures, and the need for structural reforms in agriculture, and internal security, among other issues.
At the meeting, Modi had said the goal of making India a $5 trillion economy by 2024 is "challenging, but achievable". He also reiterated the Centre's commitment to double farmer incomes by 2022.
The government think tank, in the first 100 days after being reconstituted, has been tasked to focus on employment generation, and come up with a blueprint to tackle drought situation, set up health centres and an aspirational districts programme.
Former Defence Research and Development Organisation chief VK Saraswat, a member of NITI Aayog, said the official think tank was also working on a policy paper on the introduction of artificial intelligence in the fields of healthcare, agriculture, education, smart cities and infrastructure and smart mobility and transportation." We have drafted a strategy paper and it has gone for inter-ministerial comments, following which we will send it to the Union Cabinet," he said.
Close Story