Political slugfest takes centre stage ahead of West Bengal panchayat polls
Jan 02, 2023 08:41 AM IST
While the ruling TMC has cited recent arrests of its leaders to claim it does not tolerate corruption, the BJP called it an 'eyewash' to save 'big fishes'
Kolkata: The successive arrests of three Trinamool Congress (TMC) leaders and a civil contractor in West Bengal's East Midnapore district on December 28, and disciplinary action against several more in other districts in recent weeks have exposed the ruling party to an escalated slugfest over corruption prior to panchayat elections to be held in early 2023.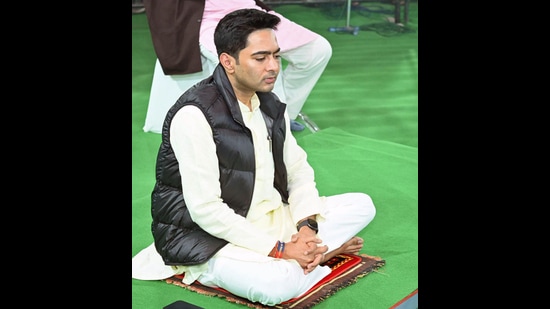 Sheikh Salim Ali, head of the Shantipur-1 panchayat in Tamluk region, was arrested onDecember 28on charges of amassing ill-gotten wealth and owning 63 benami properties, East Midnapore police said. Ali had resigned from the panchayat post the day before following orders from the leadership.
"I cited my failing health as reason for resigning. I don't know what charges the party has brought against me," Ali said hours before his arrest.
Prasanta Das, a councillor at the Haldia municipality, was arrested on the same dayfor allegedly taking money from several people after promising them jobs in factories in the industrial township, police said.
Dibakar Jana, a former panchayat samiti member from the Tamluk area and expelled from the TMC last year, was also arrested on December 28 for his alleged involvement in corruption linked to supply of boulders to the Kolaghat thermal power station.
Ramchandra Panda, a civil contractor from Contai town, was arrested on the same dayfor his alleged involvement in a corruption case linked to construction of a proposed crematorium.
ALSO READ: On Arijit Singh concert row, Trinamool says, 'Not gerua but gira hua'. And a 2022 playlist
Complaints against all four were received by the party through "Ek dake Abhishek (Abhishek on call)", a helpline TMC national general secretary and chief minister Mamata Banerjee's nephew Abhishek Banerjee launched on June 18 at Diamond Harbour, his Lok Sabha constituency in the South 24 Parganas district, said district TMC leaders who did not want to be named.
On August 16, dozens of billboards, carrying photos of Abhishek Banerjee and promising the party's emergence in a new avatar, appeared in Kolkata. "A new TMC, just like the one people want, will emerge in six months," said the hoardings, some of which were spotted within 100m of the chief minister's residence.
"Since July 21, when we held our annual rally, Abhishek had been telling TMC workers that the party would get rid of corrupt leaders in six months," a senior TMC state leader said on condition of anonymity. "He told district office-bearers at closed-door meetings that nomination for the 2023 panchayat polls would be given only to people with a clean image. The purge has started."
The December 28 arrests came days after Abhishek Banerjee started touring the districts to stop the Bharatiya Janata Party (BJP) from capitalising on the ongoing agitation against TMC leaders over irregularities in selection of applicants for the Pradhan Mantri Awas Yojana housing scheme for the poor.
Abhishek Banerjee's rallies in East Midnapore and Nadia districts were followed by the BJP's counter rallies addressed by Suvendu Adhikari, leader of the opposition in the state assembly and Mamata Banerjee's former cabinet colleague who joined the saffron camp in December 2020. East Midnapore is his home ground.
In what is now being dubbed by the BJP as damage control exercise to save the big fishes, Abhishek Banerjee, while addressing rallies in East Midnapore and Nadia, asked some office-bearers to resign while pulling up others for not doing their duty.
On December 17, for example, he asked Partha Pratim Dey, a local gram panchayat chief from Nadia's Ranaghat area, to step down. "I want you to put in your papers tomorrow. I have been informed that you did not visit your office even once in four years," Banerjee said at the Ranaghat rally.
Dey, who followed the orders, said: "It is not true that I never went to office. Someone misinformed the party."
ALSO READ: TMC eyes Meghalaya assembly polls after expansion plan fails in Goa, Tripura
On December 22, Pradip Sarkar, chairman of the TMC-run Kharagpur municipality in West Midnapore district, resigned after 18 of the 25 councillors complained against him to Abhishek Banerjee and also lodged a police complaint bringing charges of corruption, TMC leaders said.
Sarkar could not be reached for comments.
Similarly, 11 councillors of Midnapore town municipality have complained to Abhishek Banerjee against chairman Soumen Khan, according to TMC leaders.
While these actions have prompted some TMC panchayat leaders to voluntarily resign in regions Abhishek Banerjee is yet to visit, the BJP and the Communist Party of India (Marxist) – which outdid the saffron camp in the municipal polls held earlier this year — have targeted Mamata Banerjee and her party. They have claimed that a number of top leaders like minister Firhad Hakim, former minister Partha Chatterjee and Abhishek Banerjee himself are facing probes by the Central Bureau of Investigation (CBI) and Enforcement Directorate (ED) in various cases. Chatterjee was the only one to be suspended and removed from all posts following his arrest in July in the school recruitment scam.
"The expulsion of district-level leaders is just an eyewash to divert people's attention from large-scale corruption in PMAY and other Centre-funded schemes," West Bengal BJP's chief spokesperson Samik Bhattacharya said. "The big fishes in the chain are being shielded by the TMC."
CPI(M) central committee member Sujan Chakraborty dared the chief minister to order investigations into allegations against members of her family. "People know how much property the family owns in the Kalighat area (of south Kolkata). Will the chief minister order an investigation into that as well? These tactics cannot fool the common people," said Chakraborty.
As the TMC celebrated its 25th foundation day on January 1, Abhishek Banerjee said zero tolerance to corruption is his party's driving spirit.
"The state government has done a commendable job by removing thousands of names from PMAY lists in just one month," he said. "The TMC has taken stern action against many leaders. Several were expelled. This is the only party that walks the talk. I announced six months ago that a new TMC will emerge."
He also took a swipe at BJP's Suvendu Adhikari without naming him.
"The BJP on the other hand gives electoral nomination to someone who was caught on camera while accepting money and is named in the Saradha case," the TMC leader said, referring to the Narada bribery case and Saradha chit fund case. Adhikari was in the TMC when he was accused in both cases.
TMC leaders indicated that more district functionaries are under the party's scanner.
"In August, Mamata Banerjee made significant reshuffles in TMC district units. Some of the new incumbents are known to be close to Abhishek, whose importance in the party is growing," a TMC state functionary said on condition of anonymity. "Mamata Banerjee will address around 3,000 leaders, including MPs and MLAs, on January 2 and announce her roadmap."