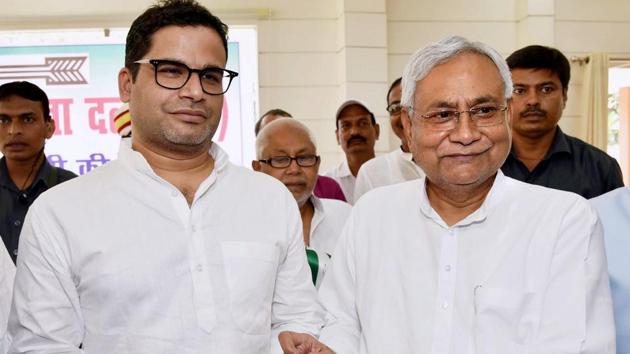 Political strategist Prashant Kishor joins Nitish Kumar's JD(U) ahead of 2019 elections
Prashant Kishor first advised Nitish Kumar and helped the Grand Alliance of JD (U), Rashtriya Janata Dal and the Congress win in Bihar in 2015
UPDATED ON SEP 16, 2018 10:04 PM IST
Political strategist Prashant Kishor, who shot to fame for being a part of the successful election campaigns of Prime Minister Narendra Modi in 2014 and the so-called Grand Alliance in Bihar the following year, joined the Janata Dal (United) in Patna on Sunday, according to party leaders.
Kishor was inducted into the party by chief minister Nitish Kumar, who is also the national president of the JD(U), at the organisation's state executive meeting at the chief minister's residence in Patna, news agency Press Trust of India (PTI) reported .
Kumar reportedly welcomed the 41-year-old into the party by presenting him with an "angavastram" (stole), and the poll strategist was given a seat next to the chief minister at the meeting. JD(U) spokesperson Sanjay Singh confirmed Kishor's joining. "Now Prashant Kishor is a JD-U leader," Singh told news agency IANS.
It was not immediately known what role Kishor had been given in the party, which he joined barely a few months ahead of the Lok Sabha polls in 2019.
Amid speculations over whether Kishor will contest the elections, JD(U)'s national general secretary, RCP Singh, said "anybody joining the party nourishes the ambition to participate in electoral politics".
Singh said the JD(U) will benefit from Kishor's experience in campaign planning. "Kishor understands the dynamics of politics and his presence would strengthen the JD(U) organisation."
A resident of Buxar district in the state, Kishor was in the limelight in 2014 when he managed the poll campaign for Modi, the then prime ministerial candidate of the Bharatiya Janata Party, which went on to register its best-ever electoral performance.
A year later, he collaborated with Kumar, who returned to power for his third consecutive term after registering a victory in the Bihar state polls, which the JD(U) fought in alliance with the Rashtriya Janata Dal (RJD) and the Congress.
Kishor also worked with the Congress in Punjab where the party returned to power by dislodging the Shiromani Akali Dal (SAD)-BJP combine. His collaboration with the Congress in Uttar Pradesh, however, failed to bear fruit as it won less than 10 seats in the 403-member assembly in 2017.
(With agency inputs)
Close