'Poore desh me khela hobe': Mamata on Opposition's unity ahead of 2024 elections
Published on Jul 28, 2021 08:36 PM IST
West Bengal chief minister and TMC chief Mamata Banerjee said that in the 2024 general elections, the faceoff will be between Prime Minister Narendra Modi and the whole country.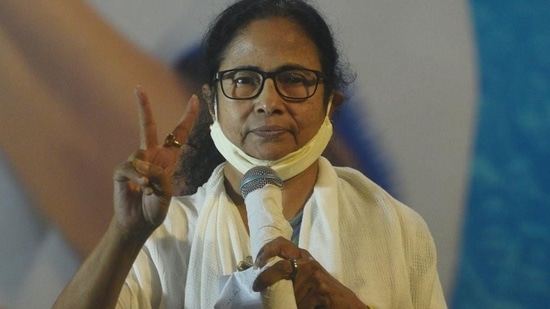 Written by Sharangee Dutta | Edited by Avik Roy
, Hindustan Times, New Delhi
Addressing the media in Delhi on Wednesday, Trinamool Congress chief and West Bengal chief minister Mamata Banerjee said that in 2024 "poore desh me khela hobe" (game will be on all over the country), even as she has been meeting and holding discussions with several Opposition leaders during her five-day visit to the national capital.
Terming the "khela" to be a "continuous process," Banerjee said that in the 2024 Lok Sabha polls, the opposition will be stronger than the BJP and will create history. "When general elections come, it will be Modi versus [the] country," the chief minister added.
She said that "khela hobe" was the key slogan for the TMC during the recently concluded assembly elections in West Bengal, which it won "comprehensively" and regained power in the state.
Amid the ongoing row between the Centre and the opposition over Pegasus snoop project and various other matters, Banerjee said, "We want to see 'sacche din', saw enough of 'ache din'."
Notably, BJP's slogan before the 2014 general elections was "ache din".
Talking about her meeting with Congress interim president Sonia Gandhi, the TMC supremo said that even the latter wants "unity of opposition."
"Congress trusts the regional parties and regional parties trust Congress," she added.
Also Read | Mamata Banerjee meets Arvind Kejriwal in Delhi
Banerjee further told media persons that her discourse with Sonia and Rahul Gandhi was "very good" and that she thinks a positive result must emerge from it in the future.
"It is essential for everyone to come together in order to defeat the BJP. Alone, I am nothing – everyone will have to work together. I am not a leader. I am a cadre. I am a person from the street," she said.
However, Banerjee evaded questions regarding the face of Opposition in the 2024 elections, citing that she isn't a "political astrologer."
Also Read | 'Khela hobe', says Mamata even as she skirts Delhi leadership queries
"We will sit together and decide, I am not a political astrologer. The decisions depend on the system, and on political parties. I cannot impose my decision on others," the chief minister said.