Pravin Togadia slams BJP, demands Ram Temple law by October
Jun 26, 2018 03:11 PM IST
Pravin Togadia, who has formed a new organisation called AntarRashtriya Hindu Parishad, warns of an agitation by Hindu seers and the BJP's defeat in the upcoming Lok Sabha polls unless the promise of building the temple in Ayodhya is fulfilled.
AntarRashtriya Hindu Parishad (AHP) president Pravin Togadia on Tuesday slammed the ruling BJP government for doing little to build the Ram Temple at Ayodhya, and warned of an agitation by Hindu seers if the saffron regime did not enact a law in this regard by October.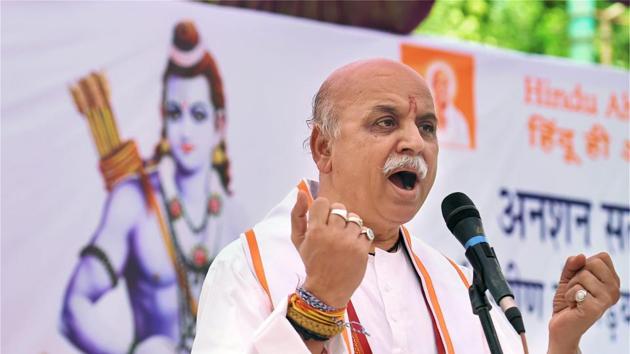 "The government should pass a law in Parliament or announce a definite timeline for building the Ram temple. If this is not done by October, a large number of saints will take out a march from Lucknow to Ayodhya," Togadia told mediapersons.
He remarked that veteran BJP leader LK Advani would have taken out his rath yatra from the Supreme Court (instead of Somnath) to Ayodhya if the party intended to wait for a judicial order in this regard. "The BJP had promised that it will construct the temple after forming a majority government," he said. "If it fails to fulfill this promise made to Hindus, they will teach it a lesson in 2019."
Togadia said the media will get to know by October if he plans to contest the 2019 Lok Sabha elections.
The AHP president also dropped hints of a "third alternative government" being formed after the next parliamentary polls, but refrained from elaborating. "Both the Congress and the BJP have been coming to power because of Hindu votes. While these parties are dependent on Hindus, Hindus are not dependent on them," he said.
Togadia said he would send a charter of demands, which would include the enactment of a law for building the Ram Temple, introduction of a uniform civil code and enforcement of the two-child norm in the country, to Prime Minister Narendra Modi.
The AHP leader also said that he and Uttar Pradesh Yogi Adityanath have a common guru in Mahant Avaidyanath. "It was Mahant Avaidyanath's dream that a Ram temple be built at Ram Janmbhoomi. I will continue to work for it," he added.
Togadia left for Ayodhya on an 'Ayodhya Chalo' procession after the press conference.