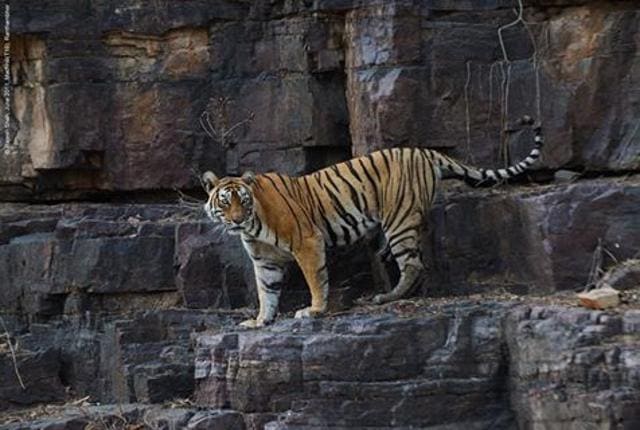 Queen of the forest: Machhli, Ranthambore's iconic tigress, dies
Machli, arguably India's most iconic big cat and the face of the country's tiger conservation programme, died inside the Ranthambore National Park in Rajasthan of old age on Thursday morning. She was 19.
UPDATED ON AUG 18, 2016 08:55 PM IST
India's most iconic and endearing big cat, Machhli, died of old age in Ranthambore National Park on Thursday morning. She was 19.
The Queen of Ranthambore was unwell and was being constantly monitored. She was semi-conscious since she ate her last meal — 2kg of meat fed by park rangers four days ago.
The face of the country's tiger conservation programme, she was the world's oldest-surviving tigress in the wild, Ranthambore field director Yogesh Kumar Sahu said. "At 19, Machhli's age is like 110-120 years for a human."
The average life-span of a tiger is 12 to 13 years.
Born in 1997, Machhli — also known as T-16 — got her name from a fish-shaped mark on her face. Over the years, she became one of the most-photographed animals in the world, bringing thousands of visitors and crores of rupees in tourism revenue every year to the park in Rajasthan.
Most tourists would consider a visit to the park futile if they didn't catch a glimpse of the majestic cat.
HT Special: Where are the big cats? Curious case of Ranthambore's missing tigers
She inspired a reel of wildlife films and documentaries – most notably Tiger Queen – and a postage stamp was issued in her honour in 2013.
"Sad to know of Ranthambore's iconic tigress Machhali's passing away. #Machhali gave visitors stories to remember--her bloodline reigns supreme in valleys & glades of the park," chief minister Vasundhara Raje tweeted.
Over 16 years since her first litter in 2000, Machhli gave birth to nine offspring who went on to populate Ranthambore and Sariska tiger reserve. Sariska has 14 tigers, including cubs, of which 12 are Machhli's progeny.
"Very sad to know, the Queen of Tigers, Ranthambore's Machhli is no more! Machhli was not only the oldest tigress in the world, but also the mightiest. It was the pride of the jungle, burning bright #ranthambore," former chief minister Ashok Gehlot tweeted.
Machhli was a daring tigress in her younger days. Her most famous fight was with a huge crocodile. She won the bout, but lost most of her canines. Since then, she hunted occasionally and park officials provided her live bait to keep her from starving.
She was an intriguing individual, too. The camera-savvy Machhli, who was never uncomfortable in the company of people clicking away from a few yards, vanished from the park's core area a couple of years ago. The star's disappearance triggered speculation about her death and brought brickbats to park officials until she returned quietly a few months ago.
During her salad days, Machhli was often spotted near her favourite waterholes in the park's lake area, earning the title Lady of the Lakes. But young tigresses pushed her to the park's fringes later; and advancing age prevented her from reclaiming lost territory.
Sahu said Machhli made one last — and surprising — appearance at her lost lakeside domain about two months ago, nearly a decade after she was forced out.
Close