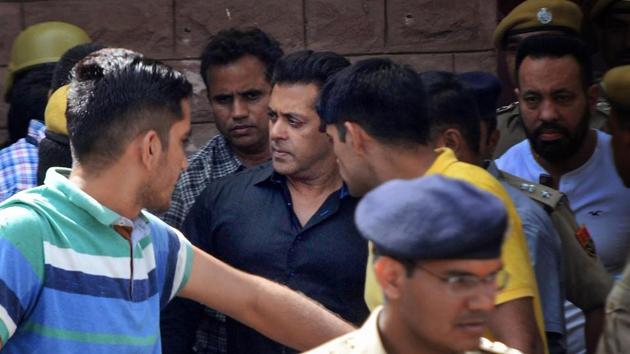 Prisoner no 106 Salman Khan to be lodged in cell next to Asaram's after conviction in blackbuck case
Salman Khan will be lodged in a barrack that won't house anyone else. He will also have to sleep on the floor and rely on a ceiling fan to beat the Rajasthan heat.
UPDATED ON APR 05, 2018 08:44 PM IST
Bollywood superstar Salman Khan will spend his time in a barracks next to Asaram, the self-styled 'godman' facing trial in rape cases, in a jail in Rajasthan's Jodhpur after he was found guilty in the two-decade-old blackbuck poaching case on Thursday, officials said.
Khan was sentenced to five years in jail and fined Rs 10, 000 after a local court in Jodhpur convicted him for the killing of two blackbucks, an endangered species of antelope, in Kankani village in October 1998.
"We have made special security arrangements in the jail for Salman Khan," superintendent of Jodhpur Central Jail Vikram Singh said.
Singh said Khan, prisoner number 106, was lodged in "Ward Number 2".
"He was made to undergo medical tests and has no medical issues. He hasn't made any demands. We'll give him jail uniform tomorrow (Friday)," he told ANI.
Singh said the 52-year-old actor will be lodged in a barracks next to Asaram's in the security ward and will not share it with anyone. There are only two barracks in the security ward and each of them is occupied by prisoners, who need to be kept away from other prisoners.
Asaram is in Jodhpur jail since August 3, 2013, after he was arrested for allegedly sexually assaulting a 16-year-old schoolgirl.
Officials said Khan will be treated like any other prisoner and has to follow the jail schedule. The Bajrangi Bhaijan actor will sleep on the floor and get a ceiling fan to beat the heat, they added. The maximum temperature in Jodhpur on Thursday was about 40 degrees Celsius.
Superintendent Singh said prisoners get tea and breakfast in the morning in their barracks that is served between 9am and 10 am. They are locked in their wards between 11am and 3pm after which they are free to roam around until 7pm. Dinner is also served in the barracks around this time, he added.
Khan has already spent some time behind bars in Jodhpur since the three cases against him were registered in 1998 – two for poaching chinkaras or Indian gazelles and one for killing the blackbucks.
The forest department arrested the actor in the blackbuck poaching case on October 12, 1998. He was in department's custody for two days and sent to jail for four days from October 15 to October 17.
The second time the actor went to jail was in 2006 when he was convicted of killing a chinkara on September 28, 1998, at Ghora Farm near Mathania village. The court of chief judicial magistrate sentenced him to five years of imprisonment on April 10, 2006. Khan spent three days in the jail and was released on April 13 on bail.
The third time Khan went behind bars was in 2007 when his appeal against the conviction was rejected by the session court on August 26. He was sent to jail and released on August 31 after he got bail from the high court.
Close