Sanskrit invocation song at IIT Madras event, attended by central ministers, sparks row
Feb 26, 2018 08:05 PM IST
The IIT Madras students sung 'Maha Ganapathim Manasa Smarami', penned by late poet Muthuswami Dikshithar, as the invocation song.
Tamil Nadu political groups took offence to rendition of a Sanskrit invocation song and not the traditional Tamil one at an event in IIT Madras on Monday, alleging that it was done to snub the state's language and people.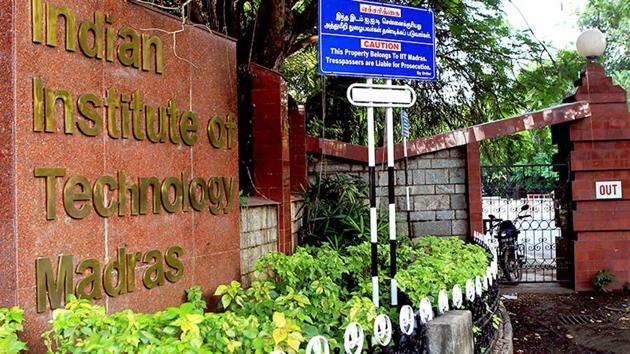 IIT Madras director Bhaskar Ramamoorthy said there was no scope for any controversy, and it was up to the students what they came up with.
Students sang Maha Ganapathim Manasa Smarami, penned by Muthuswami Dikshithar, at the start of the foundation stone laying ceremony of National Technology Centre for Ports, Waterways and Coasts to be set up along with the institute. Union minister of road transport and highways, shipping and water resources, Nitin Gadkari, and Union minister of state for finance, Pon Radhakrishnan, attended the function.
Marumalarchi Dravida Munnetra Kazhagam (MDMK) leader Vaiko alleged that this was a calculated insult of Tamil and Tamils by the BJP-led central government. "It is hurting Tamil pride that the Tamil anthem (Tamizh Thai Vazhthu — invocation song of mother Tamil) was not played and instead a prayer song was sung. It is nothing but imposition of Hindi through Sanskrit," he said.
Pattali Makkal Katchi (PMK) leader S Ramadoss too saw the rendition of the Sanskrit song as a snub. "It is condemnable not to sing Tamizh Thai Vazthu," he said.
At government functions in the state, only Tamil Thai Vazhthu, penned by Manomaniam Sundaram Pillai, is the invocation song.
Bharatiya Janata Party (BJP) Rajya Sabha member Subramanian Swamy, however, told a television channel, "It is a central government institute, so it is their prerogative what songs to sing."
Ramamoorthy said, "You must appreciate this is an engineering college and when we go out to ask who will sing the invocation song, few hands go up. So, these people came forward and sang what they know." He said there were instances of students signing in Marathi and other languages too. "We do not have a music team here trained to sing songs."
Tech centre foundation
After laying the foundation stone, Gadkari said, "We are working with lot of new technologies nowadays. We are planning to use methanol as a fuel for all our maritime transport. It is highly cost-effective and less polluting in comparison to diesel."
He said the technology centre was an innovation-oriented initiative to bring cutting-edge technology to India's ports, waterways and maritime sector. Gadkari added that the central government would give Rs 70 crore for the technology centre, but eventually it would have to become self-sustaining.