Saritha Nair, the woman at the centre of Kerala's solar panel scam
Nov 10, 2017 02:34 PM IST
She and her partner allegedly used their political connections to cheat businessmen to invest in solar plants.
Saritha Nair, the main accused in Kerala's multi-crore solar panel scam, has a rags-to-riches story that could make a movie about ambition, crime and wooing the powerful.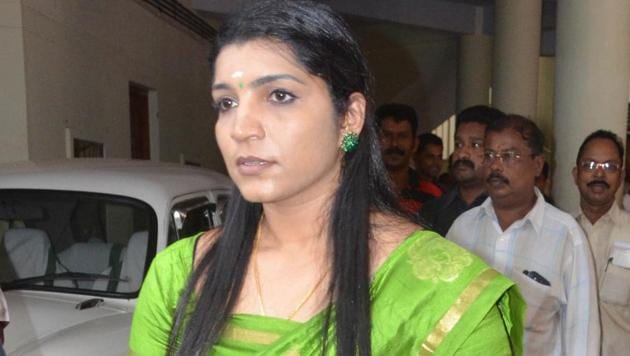 Saritha, 39, and her partner Biju Radhakrishnan allegedly flaunted their contacts with the state's Congress party leaders to cheat businessmen in Kerala and NRIs abroad to invest in solar plants. A judicial commission on Thursday indicted former chief minister Oommen Chandy, his former ministers, and other Congress leaders for allegedly helping Saritha and Biju.
Saritha was born in a middle class family: the second daughter of a clerk with the Nair Service Society, an influential organisation of Kerala's Nair community, in Chenganur in Pathanamthitta district. She was a bright student, topping her school final examination but her family plunged into crisis when her father died when she was in her teens.
Saritha married at 18, had a son but the marriage did not last long and to fend herself she joined a share-brokering business and trained to become an air-hostess.
She gave up on being an air-hostess and started working with HDFC Bank's credit card section as a part-time employee and it's here that she had her first brush with crime. She was arrested in 2005 for siphoning off the investments of customers. She gave birth to her second child when she was in jail.
She later came into contact with Biju Radhakrishnan, the employee of a finance company who is accused of murdering his wife.
Saritha and Biju entered the solar business in 2010 and formed a fictitious company called Team Solar. In 2011, they approached Chandy, who was chief minister then, through intermediaries. It was during that time that Saritha took a new name, Lakshmi B Nair.
After establishing contacts in the corridors of power, the two allegedly conned businessmen and NRIs into investing in bogus solar power and windmill projects in Kerala and Tamil Nadu.
It is said that the two exploited Chandy's open-door policy, which made him one of the most accessible politicians, to the hilt.
Saritha's relationship with Biju strained after alleged affair with K B Ganesh Kumar, an influential minister in the Chandy's Congress-led United Democratic Front (UDF) government.
Kumar's closeness with Saritha cost him his ministerial berth. He had to resign after his wife filed a case of domestic violence against him.
Soon, allegations against Saritha and Biju started trickling out and police filed 37 cases against them. Complainants alleged the couple had duped them of Rs 20 crore, excluding people who kept their mouths shut for they feared a scandal.
Saritha and Biju were sentenced to three years in jail and slapped a fine of Rs 10,000 each in December last year.
Saritha, during police investigation, alleged politicians had sexually exploited her. As she fought cases against her, intimate videos of her started appearing in social media. She blamed an Inspector General-level police officer for leaking the videos.
Saritha is out on bail and Biju is in jail, facing a double life-term for murdering his first wife.