Amit Shah defends Modi in Rajya Sabha, says selling 'pakodas' better than being unemployed
Feb 06, 2018 03:39 PM IST
In his maiden Rajya SAbha speech, Amit Shah rejected the Congress's criticism and said that the BJP government had implemented its promises.
Working hard to earn a living is better than being unemployed, said BJP president Amit Shah on Monday, using his speech in Parliament to hit back at Opposition criticism of Prime Minister Narendra Modi for his statement about employment.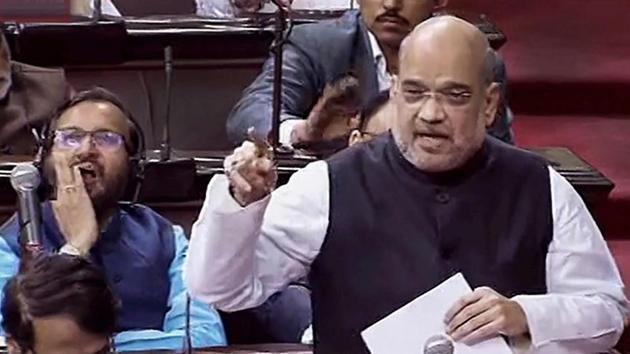 "Selling pakodas is not something to be ashamed of. Someone who sells pakodas today, his progeny can become entrepreneurs tomorrow. Today a son of chaiwala is the PM of this nation. You cannot compare the self-employed with beggars," Shah said in his first speech in the Rajya Sabha
Modi, in a recent interview to Zee News TV channel, had said, "If someone opens a 'pakoda' shop in front of your office, does that not count as employment? The person's daily earning of Rs 200 will never come into any books or accounts. The truth is massive people are being employed."
Congress leader P Chidambaram on Sunday criticised Modi's speech, saying the government didn't know how to create jobs. "By that logic, even begging is a job. Let's count poor or disabled persons who are forced to beg for a living as 'employed' people... The truth is India is witnessing a three-year spell of modest, but jobless growth and the government is clueless about how to create jobs," said Chidambaram, a former finance minister.
Shah rejected the Congress's criticism and said the party had failed to help India's people in over seven decades of its rule. He said the Modi government had implemented its promises such as opening bank accounts for the poor, building toilets, and providing electricity to 16,000 villages.
The Modi government has kept its promise of working for the poor and deprived, farmers, youth, tribals, Dalits and women. "We don't announce policies to appease people, we announce schemes that are good for the people."
Shah said 31 crore zero-balance bank accounts have been opened to ensure that money intended for the poor reaches them through the direct benefit transfers scheme.
He compared Modi's appeal to the rich to give up their subsidised LPG gas connection to former prime minister Lal Bahadur Shastri's call to forego a meal during the 1965 war with Pakistan.
Shah said the government has not only promised houses for all in rural areas, but is also sanctioning gas connections through the Ujjwala scheme that has changed the lives of women. Modi has ended the ills of dynastic rule, casteism and discrimination, said Shah. Modi was present in the House.
Shah, who was elected to the upper house last year, also criticised the Congress for calling the goods and services tax (GST) "Gabbar Singh Tax" and said it is unfortunate that the opposition party was inciting people not to pay tax and trivialising it.