Under-construction flyover collapses in Varanasi, 18 killed, several trapped
May 16, 2018 01:11 AM IST
A bus and half a dozen vehicles were crushed by falling debris from the flyover in Varanasi.
At least 18 people were feared dead and many more trapped when a portion of an under-construction flyover collapsed in Uttar Pradesh's Varanasi during the evening rush-hour on Tuesday, rescue workers said.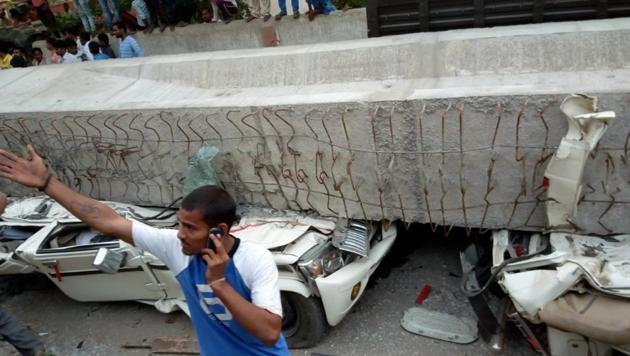 The toll is expected to rise as a bus and at least six other vehicles were still buried under huge cement blocks that came crashing down near the Cantonment railway station.
Five teams of National Disaster Response Force (NDRF) were leading the rescue effort in the holy city, which is also the parliamentary constituency of Prime Minister Narendra Modi.
"A team of rescuers has been sent to the spot. Rescue operation has been started. We are gathering inputs," an NDRF official who didn't wish to be named said.
A pillar of the flyover gave way suddenly, burying passersby and vehicles, eyewitnesses said.
Unconfirmed reports said at least 24 people were trapped in the debris of the flyover being built between Lahartara and Chauka Ghat.
The area is congested and has heavy traffic as the road leads to the railway station and is also used by those heading to the airport.
Modi expressed grief over the incident. "Extremely saddened by the loss of lives due to the collapse of an under-construction flyover in Varanasi. I pray that the injured recover soon. Spoke to officials and asked them to ensure all possible support to those affected," he tweeted.
Chief minister Yogi Adityanath had asked the district administration to take all necessary steps for rescue work, a state government spokesperson said.