Shashi Tharoor charged with abetment of suicide in Sunanda Pushkar case: A timeline
Congress leader Shashi Tharoor has been charged by the Delhi police with 'abetting' Sunanda Pushkar's suicide and 'subjecting her to cruelty'.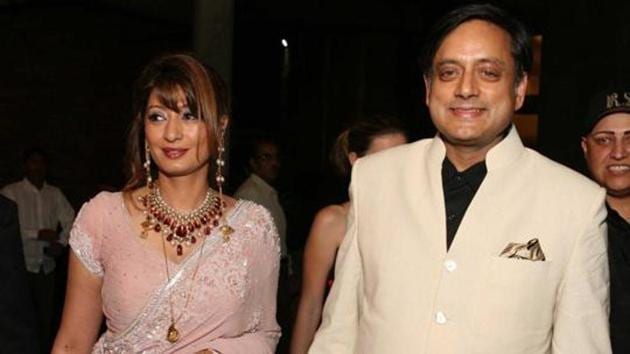 Published on May 14, 2018 06:30 PM IST
Hindustan Times, New Delhi |
HT Correspondent
Four years after Sunanda Pushkar was found dead in her suite at a five-star hotel in Delhi, her husband and Congress leader Shashi Tharoor has been charged by the Delhi police with 'abetting her suicide' and 'subjecting her to cruelty'
On January 17, 2014, Pushkar was found dead in room number 345 of Hotel Leela Palace in south Delhi. A three-member AIIMS autopsy panel found anti-anxiety drug Alprazolam — popularly known as Alprax — in Pushkar's body, a fact corroborated by the FBI, which analysed the viscera samples.
A number of conspiracy theories have cropped up over the circumstances leading to her death. Here is a look at the case and the event preceding her alleged suicide.
2014
January 16: Sunanda Pushkar, wife of Congress leader Shashi Tharoor, and Pakistani journalist Mehr Tarar are locked in a Twitter spat over the latter's alleged affair with the politician.
January 17: Pushkar is found dead in room number 345 of Hotel Leela Palace, Delhi.
January 19: Post-mortem at AIIMS reveals a case of sudden and unnatural death. Doctors say certain injury marks are found on the body.
January 21: The sub-divisional magistrate (SDM) says in his report that Tharoor's wife died due to poisoning.
January 23: The probe into Pushkar's death is transferred to the Delhi Police Crime Branch.
January 25: The case is transferred back to the South District Police.
July 2: An AIIMS doctor heading the panel to conduct Pushkar's post-mortem claims he is being pressurised to manipulate the autopsy report.
September 30: AIIMS doctors submit viscera report to Delhi Police.
October 19: Media says poison was found in Pushkar's final viscera report.
November 9: The hotel room in which Pushkar was found dead is again examined by police and forensic experts. Fluid marks found on the bed and broken glass are sent for examination.
2015
January 6: Delhi Police commissioner BS Bassi says Pushkar did not commit suicide but was murdered. He also says a murder case was registered and a probe will be conducted. Tharoor says that he is stunned by the developments and that he will cooperate with police.
February: Pushkar's viscera samples are sent to the FBI lab in Washington for examination and identification of poison that killed her.
March 12: Bassi says Tarar is an important link in the case and will be asked to join the investigation. Tarar says she is ready to help investigators whenever summoned.
November 10: Delhi Police receive Pushkar's viscera report from the FBI. The report says radiation in Pushkar's viscera samples was within permissible levels and did not cause her death.
November: Delhi police ask journalist Nalini Singh, who was one of the last persons to speak to Pushkar, to help with investigation. Pushkar had reportedly asked Singh to help her retrieve BBM messages between her husband and the Tarar.
2016
March: Tarar comes to Delhi, meets a senior officer and denies any knowledge about Pushkar's murder.
2017
July: BJP leader Subramanian Swamy moves Delhi high court seeking a court-monitored probe by a CBI-led Special Investigation Team October: Delhi High Court dismisses Subramanian Swamy's plea.
A Delhi court is informed that the five-star hotel suite where Pushkar was found dead has been de-sealed.
2018
May 14, 2018: Delhi police file a chargesheet charging Shashi Tharoor with abeting her suicide.
Close Story