Siddaramaiah govt playing 'divide and rule' by giving separate religion status to Lingayats: BJP
Hindustan Times, New Delhi |
HT Correspondent
Mar 19, 2018 11:04 PM IST
Karnataka BJP general secretary also alleged Karnataka chief minister Siddaramaiah was playing with fire for vote bank politics for its decision to recommend separate religion status for Lingayats.
The BJP is unfazed with the Karnataka cabinet's decision to recommend separate religion status for Lingayats in Karnataka, senior leaders of the party said on Monday.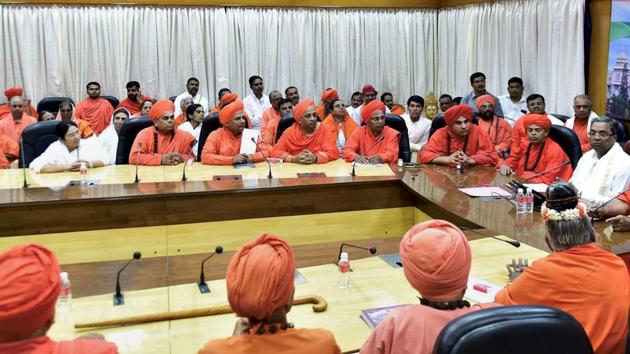 The party hopes the move will boomerang on the Congress and the community will not be swayed by "poll gimmick" to desert its leader, BS Yeddyurappa, who will become the chief minister if the BJP is voted to power. A rough estimate pegs the community's size at about 17% of the state's population, dominating north Karnataka region.
"Congress carrying 'Divide and Rule' legacy of Britishers in India ! Siddaramaiah ji is playing with fire for vote bank politics. Why Congress has done this before elections? Why they haven't done 4 years back???" BJP general secretary P Muralidhar Rao wrote on Twitter.
With BSY as the party face, Lingayat voters preferred the BJP in last several elections. A division among Lingayats, after BSY walked out of the BJP in 2012 and fought the 2013 election separately, helped the Congress return to power in Karnataka in the last assembly election.
"Siddaramaiah's aim is to woo Lingayat voters, who may be backing the BJP after BSY's return in 2014," another BJP general secretary said. "We have projected BSY as our CM-candidate and hope the community will trust him more than Siddaramaiah, who is from a different caste." Siddaramaiah is a Kuruba — a backward shepherd community — which is about 4%-5% of state's population.
The BJP banks on support it draws from mutts and religious leaders of Lingayat community, who share different views on religious minority status. "99.9% of religious leaders do not want a separate religion status," the second BJP leader said.
Political interference in matters of faith, the second BJP leader said, could be counterproductive for the Congress as was the case in Punjab. "The BJP has taken a position and conveyed to community's religious leaders that they should firm up a view and reach consensus before allowing politicians to take up the matter," a third BJP office-bearer said. "We have received positive feedback from the mutts and religious leaders on this."
Siddaramaiah is a non-Lingayat, the second leader said, playing politics with the community and wanting to become the beneficiary of division of Lingayats. The Congress hopes to receive support of SCs (17%), Muslims (13%), and tribals (7%), besides a few other OBC groups, to return to power. The BJP has set a target of winning at least 150 out of 224 assembly seats. The BJP clocked its best performance in the state in 2008 when it won 110 seats with about 34% vote share.