From Telangana to Srinagar: How Mohammad Taufeeq was drawn to militancy
Updated on Mar 16, 2018 08:52 AM IST
The Ansar Ghazwatul Hind, an outfit believed to an offshoot of the global terror group Islamic State, has said the 26-year-old Telangana militant killed in Kashmir was one among its first group of cadres.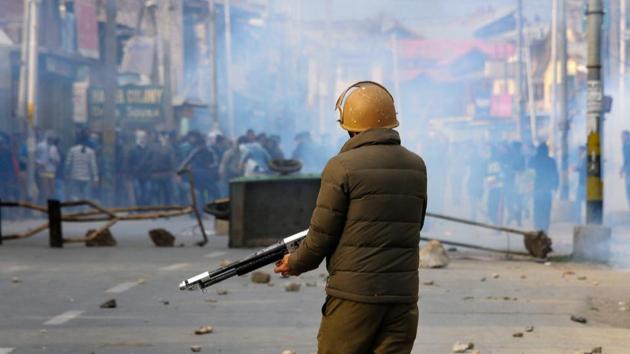 A 26-year-old Telangana militant killed in Kashmir this week was allegedly drawn to terrorism after a week-long trip to Srinagar five years ago and was subsequently indoctrinated by radical Islamists through social media and messaging services, police said on Thursday.
Mohammad Taufeeq, a native of Bhadradri Kothagudem district in east Telangana, was killed by security forces in south Kashmir's Anantnag on Monday along with two other militants.
The Ansar Ghazwatul Hind, an outfit believed to an offshoot of the global terror group Islamic State, later said Taufeeq was from its first group of cadres.
Telangana police on Thursday questioned family members of Taufeeq at Chandrugonda village, about 300 km from state capital Hyderabad.
"We are still in the process of gathering information about Taufeeq to find out whether he has any other network in Telangana. We shall disclose the details once we crack the case," said Bhadradri Kothagudem superintendent of police Amber Kishore Jha.
Taufeeq's family members could not be reached for comment and are believed to in police custody for questioning.
Taufeeq was one of three children (and the only son) of Mohammad Razak, a retired employee at a heavy water plant of the Department of Atomic Energy at Ashwapuram.
Kothagudem police officials involved in the case said Taufeeq was allegedly involved in petty thefts and burglaries while studying in school but was acquitted for lack of evidence.
After school, he joined a madrasa in Bhadrachalam, where he studied Islamic religious texts including the Quran and Hadith, a police official said, speaking on condition of anonymity.
In February 2008, Taufeeq attended several 'jamaat' – religious conventions – over 40 days in various places such as Venkatapuram, Cherla, Dummugudem and Kunavaram, the official added. Telangana was then part of Andhra Pradesh.
He completed a diploma course in engineering between 2008 and 2011 in Wanaparthy in then Mahbubnagar district, where he is believed to have stayed in a mosque.
Police said Taufeeq made a trip to Srinagar with his family in December 2012, when he was attracted to the "anti-India" and "pro-Kashmir posters" put up by militant and separatist groups in the Valley. He is also said to have made friends with some Srinagar residents.
Taufeeq later opened a Facebook account to know about the happenings in Kashmir and was gradually attracted to militant ideology.
"He used to read online papers... to understand Kashmiri militancy. He downloaded (Pakistan-based terror outfit Jaish-e-Mohammed's founder) Masood Azhar's speeches ," the police official said.
In December 2013, Taufeeq took up a job in Hyderabad. His interest veered towards the Islamic State and he is alleged to have received literature on the group's ideology through a messaging platform.
"In October 2015, Taufeeq went to Kashmir ostensibly to get into the dry fruits business...Instead he went to the house of one Mubashir Islam, a Hizbul Mujahideen extremist whom he had contacted online. Then he returned to Hyderabad," the police official said.
Taufeeq is believed to have left for Kashmir permanently in 2016.
"Since then he has not contacted his family members," a second police official said on condition of anonymity.