Speedy justice for rape victims? More than 133,000 cases pending
Reuters, New Delhi |
Reuters
Apr 19, 2018 01:54 PM IST
Amid countrywide outrage over the Kathua and Unnao rape cases, Reuters research shows that since the 2012 Delhi gang rape, reporting of such cases climbed 60% to around 40,000 in 2016, with child rape accounting for about 40%.
India launched fast-track courts and a tougher rape law that included the death penalty after a gruesome assault on a student in a Delhi bus shocked the country in 2012, but crime statistics indicate the situation has got worse, not better, since then.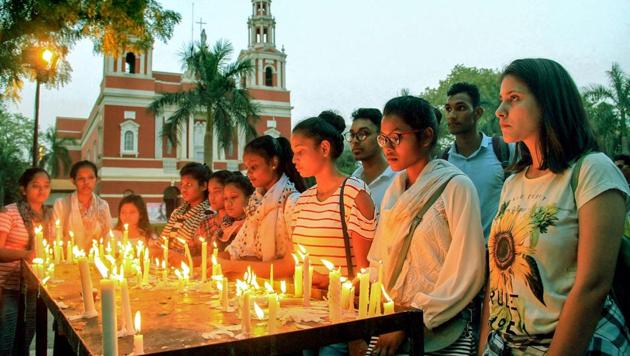 The data was collated by Reuters amid mounting public anger over crimes against women after two horrific cases in recent months that has, once again, cast a harsh light on systemic problems plaguing the country's police and courts.
The gang rape and murder of an eight-year-old girl in Jammu and Kashmir's Kathua town and the arrest of a BJP legislator for the rape of a teenager in Uttar Pradesh's Unnao district have sparked nationwide outrage, drawing parallels with the gang rape and murder in Delhi of the 23-year-old physiotherapy student six years ago.
Read | Abducted, drugged, raped and killed: Kathua girl's four days of horror
Amid the wave of anger at that time, the government promised to speed up rape trials, provide harsher penalties, including the death sentence in extreme cases, and a law against stalking.
But statistics show that since 2012, reported rape cases climbed 60% to around 40,000 in 2016, with child rape accounting for about 40%. The conviction rate of people arrested for rape remains stuck at around 25%.
The backlog of rape cases pending trial stood at more than 133,000 by the end of 2016, up from about 100,000 in 2012, National Crime Records Bureau data showed. In each year during that period, about 85% of the total rape cases being heard remained pending.
In general, conviction rates for crime against women — deaths following demands for dowry, assault, kidnapping as well as rape — are lower than for most other crimes.
"The government can make a hundred laws and yet it will fail because there is no enforcement," said Dushyant Dave, a senior Supreme Court lawyer.
"It needs to take this as an epidemic and treat it accordingly, by completely overhauling the police machinery, prosecutors and the judicial system," he said.
CASES BURIED
Crime statistics showed that police files remain open for about a third of all rapes that were investigated for each year between 2012 and 2016.
Understaffing is an issue. The government told parliament last month that police had a sanctioned strength of nearly 2 million officers, but almost a quarter of those positions were vacant.
Some of the worst accusations against the police stem from cases, like the ones in Unnao and Kathua, where they are alleged to have bowed to pressure from people of influence to bury cases.
Vappala Balachandran, a former top police officer in Maharashtra who has criticised the government's response to the recent cases, described how powerful local politicians stall police investigations.
"The one weapon the politician has is the threat of transfer (of police officers) and which they routinely exercise. So the investigation is slow, improper and weak," Balachandran said.
Read | Local influence, hold over upper caste votes: Reasons behind Sengar's clout in Unnao
CAPITAL PUNISHMENT
So far the only policy response to the latest cases has come from Maneka Gandhi, the minister for women and child development, who has advocated applying the death penalty for rape cases where the victim is under 12 years old.
Currently, the Supreme Court reserves the death penalty for extreme cases, as in the 2012 Delhi case.
Five people were convicted of rape and murder in that case within nine months. Four were sentenced to death while a juvenile was freed after serving three years. A sixth accused hung himself in his cell before the trial concluded.
Last year, the top court rejected an appeal by the four sentenced to death but they remain on death row.
A study by the National Law University in Delhi found that 43 death sentences were handed down for murder involving sexual violence in 2017, almost double the previous year's number.
A study by Kailash Satyarthi Children's Foundation, whose founder shared the 2014 Nobel Peace Prize, reckoned that as of the end of 2016, the backlog of child sex abuses cases in the courts would take two decades to clear.
Under the Protection of Children from Sexual Offences (POCSO) Act passed in 2012, which covers victims under 18 years, police should collect evidence within a month of the complaint being filed and the court should complete a trial within a year.
Read | Father of woman who accused BJP MLA of rape dies in Unnao, probe ordered
"The government of India is doing its work sincerely in each and every case," PS Narasimha, a senior prosecutor for the government, told Reuters in response to a question why rape cases took so long and the conviction rates were so low.
But Kohal Dev Sharma, a lawyer at the Punjab and Haryana High Court, said the criminal justice system failed when it came to rape.
"The procedure itself is quite lengthy that deters most of victims from fighting the battle and thus the accused are set free ultimately in most of the cases," he said.
"The procedure is traumatic for the victim who has to face a society that considers rape as a social stigma only for the victim and not the accused, due to which most victims choose to keep mum about what they go through rather than to report it."