Statue of Equality-fame seer, meditation guide get Padma Bhushan
Jan 27, 2023 12:18 AM IST
A renowned meditation guide and a best-selling author, Kamlesh Patel — the Founder of Heartfulness and the current President of Shri Ram Chandra Mission — is a trained pharmacist
Hyderabad: "Everything is decided by the god. We never expect anything but whatever we get, we shall receive it as a blessing of the god," was the reaction of Sri Tridandi Chinna Srimannarayana Ramanuja Jeeyar Swamy, on being conferred with Padma Bhushan, the third highest civilian award of the country, announced on Wednesday.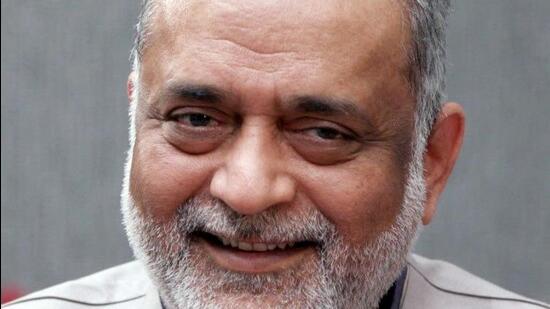 Chinna Jeeyar Swamy, a world-renowned Vaishnavaite spiritual guru, got into national headlines in February 2022, when he got the 216-ft Statue of Equality, a panchaloha statue of 11th century Vaishnavaite saint Sri Ramanujacharya inaugurated by Prime Minister Narendra Modi at his sprawling 45-acre ashram at Muchintal near Shamshabad on the outskirts of Hyderabad.
"The entire credit goes to millions of devotees who contributed to the glory of Ramanujacharya statue. I have hardly done anything. If the government acknowledges this effort and decides to give the award, we shall welcome it," Jeeyar Swamy said.
For nearly four decades, Chinna Jeeyar Swamy has been spreading the message of world peace and harmony among all section of people through propagation of Vedic wisdom, spiritual practices, religious tolerance, non-violence, joy of sharing, and mutual respect for all living beings.
Born on November 3,1956 in Arthamuru village in East Godavari district of Andhra Pradesh, Chinna Jeeyar Swamy believes in spiritual sensitivity, with deep concern and compassion for the society. In 1983, Swamy established a Vedic University and conducted innumerable Vedic rituals, yajnas and homams for humanity's prosperity and welfare. He has enlisted youngsters to propagate the message of Sri Ramanuja and has given discourses on a variety of subjects.
His Jeeyar Education Trust is involved in various social service activities including conduct of free general health medical camps, women cancer screening camps, dental camps and blood donation camps all over the world.
He also opened first ever junior college and degree colleges for the blind in India where children write their board exams on laptops without the help of a scribe. Sri Swamiji established schools for the tribals in remote areas and fishermen community.
VISION OF PEACE, SELFLESS SERVICE
Kamlesh Patel, fondly called as Daaji by his followers, is yet another spiritual intellectual, who has been conferred with Padma Bhushan on Wednesday.
"It is an acknowledgment of the thousands of Heartfulness and Shri Ram Chandra Mission volunteers and millions of practitioners worldwide who made it their life's purpose to serve society tirelessly, seeking nothing in return. I am grateful to everyone who shares the vision of peace and selfless service," Daaji said in a statement on Thursday.
A renowned meditation guide and a best-selling author, Daaji - the Founder of Heartfulness and the current President of Shri Ram Chandra Mission is a trained pharmacist, who turned to meditation and spirituality at a young age.
Through his Heartfulness mission Daaji makes the meditation practice easily accessible to millions of seekers in over 160 countries and has developed value-based development programs for students and faculty in over 5,000 schools, universities, and educational institutions.
"From stress management to self-realization, his wisdom, workshops, and personal and group contact programs have helped innumerable people around the globe attain a practical, easy-to-follow lifestyle to streamline their health and well-being," the statement from his mission said.
Patel established Kanha Shanti Vanam at Chepur on the outskirts of Hyderabad, which hosts the world's largest meditation centre and millions of practitioners gather from within India and abroad to learn, practice and serve the community.
A RECOGNITION TO SOCIAL SERVICE
Dr Sankurathri Chandrasekhar of Sankurathri Foundation, one of the seven Padma Shri awardees, said it was a recognition to all those who were involved in social service. "I am jubilant that the Central government has acknowledged by little service to the poor," he said.
Dr Chandrasekhar was one of Canada's immigrant success stories, a student from India who rose to a job as a biologist with Health Canada and settled in Ottawa with his wife, Manjari Sankurathri, and their two children, Srikiran (6) and Sarada (3), who were born in Canada.
On June 23, 1985, Chandrasekhar lost his wife and his two children, along with 326 others, in the Air India flight crash off the coast of Ireland triggered by a terrorist act. Three years after the incident, he returned to India and settled down in his wife's village Kakinada. He started the Sankurathri Foundation in 1989 with the aim of providing good health and educational facilities to the impoverished rural in the outskirts of Kakinada town in Andhra Pradesh.
"The foundation has been working tirelessly for the last three decades to prevent blindness among Andhra Pradesh's one crore people, providing them accessible, affordable, and equitable quality eye care," he said and expressed gratitude to the people who have helped and encouraged him in the last three decades.
He said he would dedicate this award to those who helped him render social service.
Simiarly, Krishnarajanagara Ganesh Nagappa bagged the Padma Shri award in Science and Engineering category. A bioorganic chemist, Nagappa is working as the Director of Indian Institute of Science Education & Research, Sri Rama College, Tirupati.
Earlier, he worked as a scientist at the Centre for Cellular and Molecular Biology, Hyd, & National Chemical Laboratory, Pune. He worked as Professor and Director, IISER, Pune. He received the Medal for Young Scientists, Indian National Science Academy, Delhi.
Abbareddy Nageswara Rao, a sexagenarian, is a scientist who discovered 33 orchid species in North East India, has also been selected for Padma Shri Award.
In arts category, Bhagavathar Kota Satchidananda Sastry of Guntur, a Burrakatha exponent, and CV Raju, an Etikoppaka artiste, have won Padma honours. Prakash Chandra Sood, honorary professor in Sri Sathya Sai Institute of Higher Learning, has been selected for Padma Shri in Literature and Education category.