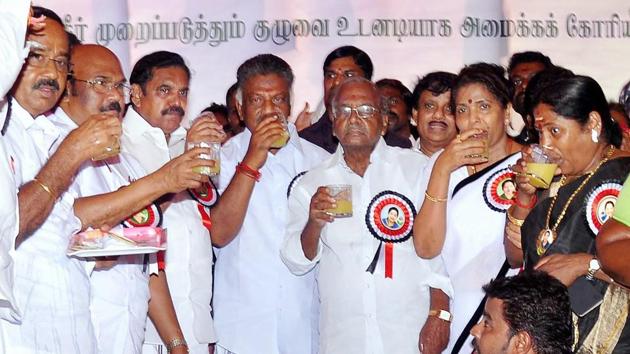 Sumptuous lunch break turns AIADMK's hunger strike into farce
The AIADMK's image took a hit after pictures emerged of its cadres eating biryani during a day-long hunger strike on Tuesday. But Tamil Nadu's ruling party claims the pictures were morphed.
By KV Lakshmana, Chennai
UPDATED ON APR 04, 2018 05:59 PM IST
The ruling AIADMK's day-long statewide hunger strike on Tuesday "condemning the Centre" for not setting up the Cauvery Management Board (CMB) in compliance with a Supreme Court order turned farcical after photographs surfaced of party cadres gorging on biryani to beat hunger.
The debate that dominated the social media was whether the protesting AIADMK men had biryani or tomato rice.
Pictures of a group of AIADMK cadres stuffing biryani from paper plates with huge servings from containers placed on a pavement in Vellore were widely shared on social media even as party cadres in Coimbatore reportedly went on a 'celebratory spree' with binge drinking.
The opposition DMK cashed in on its main rival's discomfiture, dubbing the entire hunger strike exercise of the AIADMK as a farce and said the Palaniswami government was nothing but a front of the central government in Tamil Nadu. "As such, the government is non-serious in its approach to the Cauvery issue, which is why it staged a drama and people have seen through it," said DMK spokesperson A Sarvanan.
Another DMK leader TKS Elangovan said the AIADMK government was not serious about the issue and was acting on the instructions of the BJP government at the Centre. "The hunger strike was just a show off by AIADMK to the people of Tamil Nadu. The state government has failed to impress upon the Centre to form the CMB as per SC order," Elangovan said.
But AIADMK leader and Rajya Sabha MP A Navaneethakrishnan dismissed the pictures as morphed ones. "It was a mischievous prank played by someone, AIADMK cadres and leaders observed total hunger strike without taking even a drop of water," he told a local television channel.
The breakaway AIADMK grouping headed by TTV Dhinakaran was more scathing in its attack. Its spokesperson CR Saraswathi said AIADMK leaders are "solely concerned with power". "It is for this reason they were dancing to the BJP tunes and did nothing for the Tamil Nadu cause," she said.
"OPS went to Delhi so many times and met the Prime Minister also. Why could he not get the Centre to set up the CMB?" she asked.
"It was Amma who got the tribunal order notified in a gazette and after that, EPS and OPS have done nothing to protect the interests of the farmers of the state," Saraswathi said.
Close