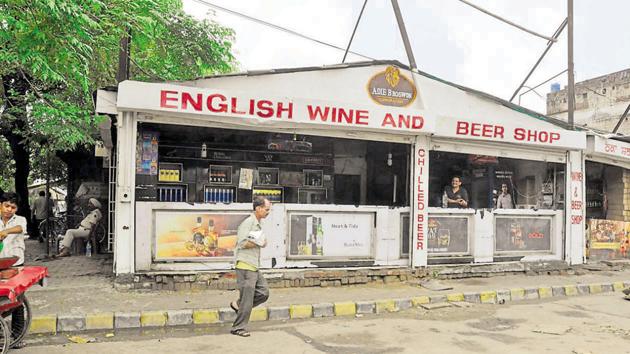 SC orders ban on sale of liquor at shops within 500 metres of highways
The Supreme Court ordered on Thursday ban on liquor shops on national and state highways across the country from April, 2017. A three-judge bench headed by Chief Justice TS Thakur ordered removal of all signboards of alcohol vends along highways.
UPDATED ON DEC 16, 2016 12:51 AM IST
The Supreme Court banned on Thursday all liquor shops within 500 metres of national and state highways across the country, a move aimed at reducing drink driving and road accidents that claim thousands of lives every year.
Licences of existing shops will not be renewed after March 31 next year, it said.
A three-judge bench headed by Chief Justice TS Thakur ordered removal of all signboards of alcohol vends along highways.
"We would not like any vend on national highways, state highways, advertisements, or signage about availability of liquor shops. All signboards should be removed. Roads should be absolutely free from any distraction or attractions. Visibility is the first temptation," Justice Thakur said.
Last week, the bench made it clear that such an order was necessary for the safety and security of highway commuters who get tempted to down a few drinks after seeing liquor shops. It also expressed serious concern over 150,000 fatalities every year in road accidents, a majority of them attributed to drink driving.
The order came on petitions challenging high court verdicts that disallowed sale of liquor on highways.
The courts had said liquor shops should be located away from highways so that they were neither visible nor accessible to travelers.
The top court came down heavily on states for not paying heed to the Centre's advice not to give licence to shops selling alcohol along highways.
"You can start a door delivery of liquor," the bench told the counsel for Jammu and Kashmir, who argued that people will face difficulties because of the state's terrain in accessing the shops if they are put away from the highway.
The Punjab government's counsel had faced the court ire.
"You are acting like a mouthpiece for the liquor lobby by defending the policy. You want the excise minister to be happy, make the government happy … let 1.5 lakh people die but you must serve liquor."
The court was shocked to learn that there were 62 liquor shops along a 1km stretch on the national highway in Mahe district, Puducherry. The place is a haven for tipplers from Kerala where drinking and sale of alcohol is prohibited.
The Chief Justice pointed out that the Centre had asked for the removal of these vends in 2007. But the Union Territory, which is under the Centre's control, didn't take any action.
Road safety activists, and even a Punjab politician and liquor baron, welcomed the move.
"This is a right decision. So many accidents happen because of drink driving across the state. There should also be a check on vends hidden behind regular shops," said Deep Malhotra, a Shiromani Akali Dal legislator who is in the liquor business.
According to Prince Singhal, the founder of Community against Drunken Driving Movement in India, his group asked the transport ministry in 2009 to remove shops selling liquor along highways.
"I am glad the Supreme Court took action. Alcohol impairs the ability to drive and causes accidents and deaths."
The Haryana government had removed liquor vends from highways, including shops along NH 8 that runs through Gurgaon, following a Punjab and Haryana high court order in 2014.
"Now that the Supreme Court has mentioned 500 metres from highways, we will check and take action accordingly," said Aruna Singh, deputy excise commissioner, Gurgaon.
Ghaziabad has 502 liquor shops, mostly close to NH24, NH91, NH58 and state highway 57.
"We have received directions from senior officials to identify shops along highways. We will start a survey from Friday," said Karunendra Singh, the district excise officer.
(With inputs from HTC Ghaziabad and Gurgaon)
Close