The UNGA speech: Sushma Swaraj and her art of communicating in Hindi
Updated on Sep 28, 2016 02:25 PM IST
External affairs minister Sushma Swaraj can hold any conversation in Hindi as well as English with equal ease. But her choice to speak in Hindi even at international conventions is a conscious decision at reflecting the country and targeting the domestic crowd.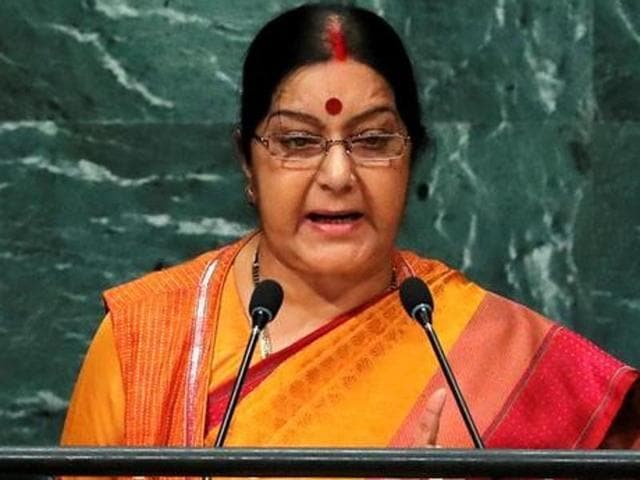 External affairs minister Sushma Swaraj can hold any conversation in Hindi as well as English with equal ease.
Swaraj, however, has always chosen Hindi for her speeches and in her diplomatic interactions. And nothing finds a better expression of her chaste Hindi than her speeches.
In her recent address to the United Nations General Assembly, she followed former prime minister Atal Bihari Vajpayee and PM Narendra Modi who delivered their speeches in the national language. Swaraj addressed the last UNGA session in Hindi as well.
This time, the terror attack on an Indian Army base in Uri had the spotlights on her like never before. She had to counter Pakistan prime minister Nawaz Sharif who devoted a great deal of his speech to the Kashmir issue.
Read | Top 5 quotes from Sushma Swaraj's address at the UN General Assembly
Swaraj's challenge was to make a befitting reply without making her entire speech an India-Pakistan slugfest. She got the mix right. She also had the task of launching an attack on Pakistan for sponsoring terrorism and placing the issue in the larger global context. And her dexterity in the language just made it easy.
Making her speech in Hindi at the UNGA had an extra advantage -- driving home the point to her target audience in India and Pakistan and making them understand what she wanted to say in a better way.
"She was mostly addressing the domestic audience. International audience anyways, I don't think, give much importance to the India-Pakistan rhetoric," former diplomat MK Bhdrakumar said.
Strategic affairs expert Brahma Chellaney agrees. "Both Nawaz Sharif and Sushma Swaraj were speaking for their respective domestic audience."
Read | For and against: How Tweeple reacted to Sushma's UNGA address
There has never been any dearth of praise that Swaraj receives for her speeches. BJP patriarch LK Advani once famously said that two leaders give him a complex when they speak: One was Vajpayee and other Swaraj.
After her speech in Parliament where she defended herself against allegations of helping former IPL boss Lalit Modi, PM Modi tweeted her speech video, saying it was a must watch.
Swaraj has earned praise even from opposition leaders who have not shied away from complimenting her for showcasing her oratory skills in Hindi.
In May 2015, CPI(M) Rajya Sabha MP Ritabrata Banerjee compared her to Indira Gandhi after her spirited speech and subsequent efforts saw Parliament passing the Land Boundary Agreement (LBA) with Bangladesh.
Under her leadership, the external affairs ministry has taken up the promotion of Hindi seriously.
Every Indian mission and post have been asked to use Hindi software in their offices. All private secretaries and personal assistants have to undergo compulsory Hindi language training before being posted abroad.
The logic behind this particular step is to ensure that the personnel, who often act as the first line of communication between officers and the people reaching out to the mission, are well versed in the national language.
Officials have already started making file notings "increasingly" in Hindi and it has also become more common for senior officials to get their visiting cards printed in Hindi as well.
Also | Watch Sushma Swaraj's rebuttal to Nawaz Sharif at UNGA
Personalise your news feed. Follow trending topics