TDP plans no-confidence motion against govt again during Parliament's Monsoon session
Jul 08, 2018 11:22 PM IST
Telugu Desam Party says it will continue protests during upcoming monsoon session since demand for Andhra Pradesh's special status still remain unfulfilled.
The upcoming Monsoon session of Parliament may see a fresh round of protests and no-confidence motions against the National Democratic Alliance (NDA) government from its erstwhile ally Telugu Desam Party (TDP), said the southern party's leaders on Sunday, posing a question mark on the smooth running of the two Houses.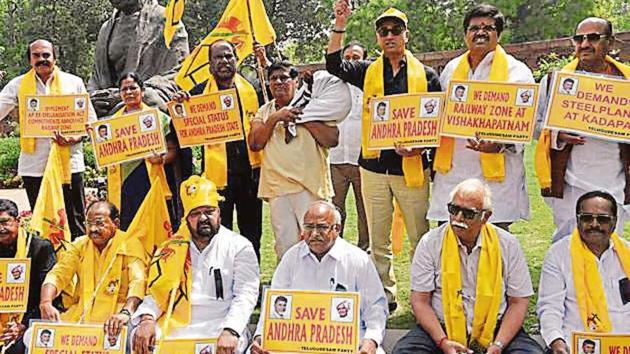 Angry disruptions from the TDP and another Andhra Pradesh-based party, the YSR Congress Party over the issue of special category status for the bifurcated state of Andhra Pradesh, took a heavy toll on the functioning of the House in the second half of the last Budget session.
In the Rajya Sabha, where the government is in minority, the House lost 124 hours of business against 45 hours of work, as per the official records.
TDP's Rajya Sabha leader YS Chowdary said on Sunday, "Our demands have not been met. There is no question that we will sit quietly. We will continue to raise our demands just as we did in the last session."
When asked if the party would push for no-confidence motions against the government again, Chowdhury replied, "In a Parliamentary democracy, Opposition parties have the right to protest in any format they want. We may again bring no-confidence motion."
A senior Congress strategist, involved in floor coordination among different Opposition parties, added, "The feedback we've got from the TDP is they will make it difficult for the NDA to run the Parliament in the upcoming session." The TDP leader, who was earlier a minister in the NDA cabinet, also pointed out that "it is the onus of the government to run the House."
Andhra Pradesh chief minister Chandrababu Naidu pulled out of the NDA government earlier this year over the unfulfilled demand. 5 YSRCP MPs have resigned from the Lok Sabha over the same issue and their resignations were accepted by the Lok Sabha Speaker several weeks ago. Opposition leaders feel that these resignations will add pressure on the TDP as the YSRCP is taking a higher moral ground.
Hitting out at the TDP, the BJP on Tuesday said the party was confusing people with its "doublespeak." wherein it is utilising the Centre's assistance on the one hand, and demanding he special status on the other.
BJP leaders pointed out that the Centre has already given special assistance to the tune of Rs 12,072 crore in externally-aided schemes to the state.
So far however, the Centre has not relented on continued demands of political parties in the state for special status of five years.