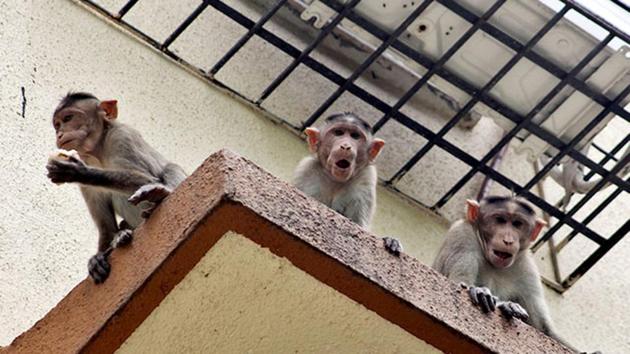 Teenager falls to death after monkey attack in UP's Kasganj
At least four deaths have been reported last month in the Braj region due to monkey attack
Hindustan Times, Agra | By HT Correspondent
UPDATED ON DEC 04, 2018 09:00 AM IST
A Class 11 student in Kasganj, who sustained serious injuries on Sunday after jumping from the terrace of his house on being attacked by a troop of monkeys, died on Monday .
The 16-year -old boy had gone to the terrace of his house for some fresh air when a group of monkeys sleeping there chased him. The frightened boy tried to jump off the terrace to save himself but fell on the road and was seriously injured. He died while being brought to Agra for treatment on Monday.
With growing monkey menace, at least four deaths have been reported last month in the Braj region, while a number of people, including tourists, have been injured.
"The boy Naman Jain, 16, was feeling exhausted and went to the terrace at about 10 pm on Sunday. Some monkeys were already sleeping there and they chased the boy who ran in panic and tried to jump to the terrace of a nearby house. But he fell on the road alongside his house in Johra Vora lane," informed Akhilesh Agarwal, city unit president of Vyapar Mandal (traders' body) in Kasganj.
"The injured Naman was taken to various hospitals in Kasganj but his condition deteriorated. He was being shifted to Agra on Monday when he died on the way," said Agarwal, adding that in similar case, a trader Sanjeev Maheshwari had also died in Kasganj due to monkey attack.
Also read | Monkey menace unabated: Italian tourist attacked in Agra
The marauding monkeys have mauled people in the Taj city too. Last month, a new born was snatched from his mother's lap by an angry monkey and killed in Runkata area.
In another case on November 22, a 32-year-old woman's death was also triggered by monkeys when they walked on a wall near her. The bricks from the wall fell on the woman's head, killing her on spot. The deceased Poonam Mahor worked in an industrial unit.
In another incident on November 13, a 59-year-old woman was injured after being attacked by monkeys in Kagarol town of Agra district. She died the next day.
The residents of the nearby district of Firozabad are equally distressed due to frequent monkey attacks. A 40-year -old labourer died due to fall from roof of his house in Shikohabad town of Firozabad last month. The labourer Bharat Singh Kushwaha had gone to the terrace of his house to water plants but was frightened on seeing a horde of monkeys there. Bharat ran in panic to save himself but fell down and died.
Read | 12-day-old baby snatched by monkey in Agra, later found dead
Close