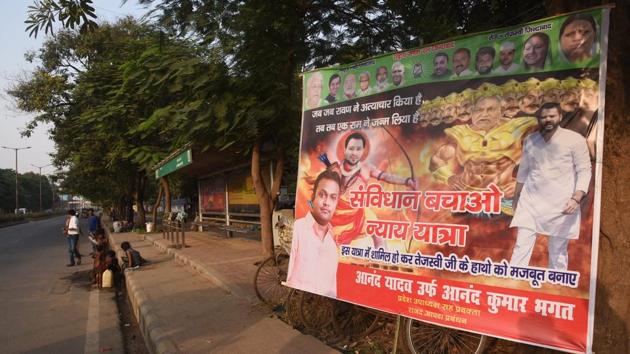 Tejashwi Yadav is Ram, Nitish Kumar Ravan in RJD poster in Patna; Congress objects
Political cartoons reappear at puja pandals in Patna, with one by the RJD showing party leader Tejashwi Prasda Yadav as Ram and chief minister Nitish Kumar as Ravan. Another by the Congress offers Rs 5 crore to anyone coming up with the 'truth' in the Rafale deal
Hindustan Times, Patna | By Vijay Swaroop
UPDATED ON OCT 18, 2018 09:23 AM IST
Political cartoons, once a major attraction of puja pandals in Bihar but banned later, have returned this year to Patna but one poster showing RJD leader Tejashwi Prasad Yadav as 'Lord Ram' and chief minister and JD (U) chief Nitish Kumar as 'Ravan' has sparked off a row with even ally Congress objecting to it.
The poster was put up by Rashtriya Janata Dal (RJD) officer-bearer Anand Yadav at a couple of pandals, ahead of leader of opposition Tejashwi Prasad Yadav's proposed 'Sambhidan Bachao Nyaya Yatra' slated from October 21.
The Congress voiced its displeasure at the poster.
"This is not acceptable. One should not forget that Nitish Kumar is not only a political leader but he is also the chief minister of the state. This is not proper and we disapprove of such type of posters," said state Congress president Madan Mohan Jha. Party's state campaign committee chairman Akhilesh Singh also voiced his objection. "Tejashwi may be Ram but showing others as Ravan is not appropriate," he said.
The Janata Dal (United) was quick to remind the RJD that it was Kumar's face which helped them increase their tally from 22 to 80 in the 2015 assembly elections. "What can you expect from the RJD? Have they forgotten the 2015 elections when it was face of Ram (read Nitish Kumar) which helped them win 80 seats," said party spokesperson Rajiv Ranjan.
This is not the lone political poster seen during the Durga Puja festivities.
A poster put up by the Congress offering a "reward" of Rs 5 crore to whoever came up with the names of 35 airports supposedly built during the tenure of prime minister Narendra Modi besides the "truth" of the Rafale deal were seen at some places in the state capital.
Put up by local party leaders Siddharth Kshatriya and Benkatesh Raman, it described the "offer" as "Puja Dhamaka" – akin to offers made by different shops during the festival celebrations -- and also carrying a newspaper clipping wherein Modi had claimed that only 65 airports were built in the 67 years before he came to power as against the 35 since he came to power in 2014.
In response, deputy chief minister and senior Bharatiya Janata Party leader Sushil Kumar Modi said, "Perhaps the only man who can win the prize of Rs 5 crore is (Congress president) Rahul Gandhi himself. We wonder what truth is being sought. Everybody knows the truth about the Rafale deal."
Kshatriya had earlier put a poster in the state capital displaying the caste of Congress leaders. In response to this, the BJP's youth wing Bharatiya Janata Yuva Morcha came out with a poster describing its top leaders as "Bharatiya" (Indian).
Close