Thanks to UP, an innocuous bypoll for a Kerala LS seat turns into a pitched battle
Updated on Mar 31, 2017 01:24 PM IST
A fierce three-cornered contest has sprung up in Malappuram, a Muslim dominated region, as people debate whether the government should dictate what people eat.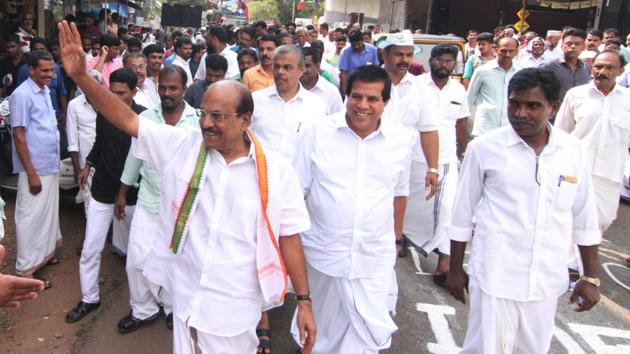 Yogi Adityanath's elevation to UP's top post to his crackdown on slaughter houses are hotly debated here. The often heard question in the Muslim majority Lok Sabha constituency is who is capable enough to contain the saffron surge—the CPI(M) or the Muslim League. Both vouch for the unity of secular democratic forces but are arrayed against each other in a fiercely-contested fight.
In Malappuram Lok Sabha constituency bypoll, national issues take centre stage. "In some parts of the country, the government prepares menu for its citizens and days are not far when it will also insist how we should eat. Do you want to allow this?" Muslim League candidate P K Kunhalikutty, a former minister, took a big crowd in Kondotty in his inimitable way. Turning their heads in unison, the crowd thundered a big no.
More than 10 days to go to booth (April 12) the political climate in Eranad region is as hot as its spicy food and scorching weather.
When the two main contestants are vociferously claiming for the secular space in the Muslim heartland (65% Muslims, 30% Hindus and 5% Christians), the BJP, a distant third-runner, is least perturbed. It says the 'Modi magic' that is sweeping the country will pay dividends to it. It says the match has been fixed with CPI(M)-led the LDF fielding a relatively weak candidate M B Faizal against the League strongman to ensure the latter's victory.
"My opponents are spreading canards. Being the youngest of the lot, am I looking so weak to you," Faizal asked a young crowd in Manjeri. True, DYFI (CPI(M) youth wing) district vice-president was a surprise candidate. But the CPI(M) says its experiment with youngsters are paying it rich dividends these days.
In Malappuram, the bypoll was necessitated by the death of former minister E Ahamed who won the seat in 2014 by a big margin of 1,94,000 votes. The League has fielded the seasoned politician to retain its fort (Manjeri LS seat later became Malappuram after constituency shake-up) held by Ahamed six times.
Read: E Ahamed, consummate politician, skilled negotiator and football fan
"Our only aim is to increase the last margin," said Abdul Hameed Master, campaign head of the League.
"Unity of secular parties is the need of the hour. By entering national politics, my first priority will be to strengthen it," said Kunhalikutty, who is safely perched in the Muslim belt, adding that he will strive hard to get a pan-India presence for his party.
Being the oldest Muslim political party of the country, the League has its units in many states but its presence is felt only in Kerala and neighbouring Tamil Nadu. It is a bit worried over parties like Asaduddin Owaisi's Majlis-e-ittehadul Muslimeen trying to widen its base.
"The country is going through a peculiar situation. Minorities should not be detached from the mainstream. This is only possible with a secular platform and my first endeavour will be to strengthen that platform," said Kunhalikutty.
Interestingly the Social Democratic Party of India (an offshoot of fundamentalist outfit, Popular Front of India) that pocketed 47,000 votes and Welfare Party of India (political party of Jamte-e-Islami) that got 30,000 votes in the last election are not contesting this time. Both CPI(M) and Muslim League blame each other for a secret understanding with these two.
"My opponents are whipping up religious passion for a polarisation. But the Muslim community can't be fooled so easily," said Sreeprakash, BJP candidate.
Citing statistics, he claims that in many Muslim-majority assembly constituencies in Uttar Pradesh, BJP emerged victorious with the help of the minority community.
After the just-concluded assembly election in five states, an innocuous by-poll is fast attracting the national attention. Though national leaders are yet to hit the ground poll fever has touched the brim.
CPI(M) state secretary Kodiyeri Balakrishnan has already said that it would be a referendum on the 11-month-old Pinarayi government.
So both, Muslim League and CPI(M), are in a hurry to empty their weaponry. The League got an unexpected gain last week after the Kerala Congress, that left the UDF camp in a huff, pledged its support to Kunhalikutty.
Personalise your news feed. Follow trending topics