The fall, rise and fall of kidney racket kingpin Dr Amit Kumar
Sep 17, 2017 08:31 AM IST
Dr Amit Kumar allegedly masterminded the kidney racket that was being run in Dehradun -- and years earlier, in Gurugram.
He did everything possible to evade arrest – used aliases, continually changed places of work across states and burnt all incriminating documents – but law finally got the better of Dr Amit Kumar, who allegedly masterminded the kidney racket that was being run in Dehradun -- and years earlier, in Gurugram.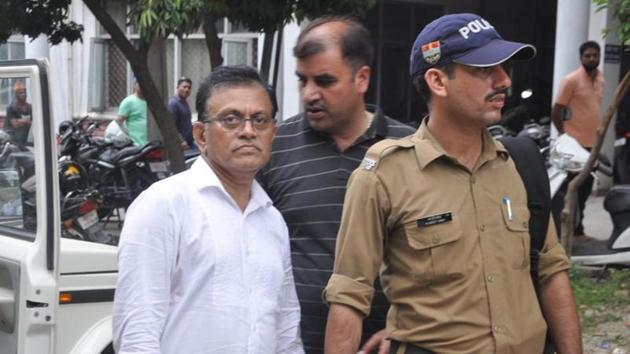 Amit and his brother Jeevan Kumar, also a doctor, were arrested by Dehradun police from Panchkula in Haryana late on Friday night: He was preparing to escape to Nepal. The police confiscated six mobile phones and Rs 33 lakh from his car. His son, also a doctor, is still absconding.
Amit Kumar was arrested many times, jumped bail and went absconding in several cases over the past two decades, but always began his 'business' of illegal kidney extractions afresh each time, thanks to his strong network of touts and middlemen who lined up kidney donors and recipients from different parts of the country and even abroad.
Dehradun police, which arrested Amit, said he had been booked in many cases in places like Mumbai, Guntur and Anand apart from those registered by the Central Bureau of Investigation (CBI) and the enforcement directorate.
Originally from Maharashtra and known by several aliases including Dr Amit Kumar, Dr Santosh Raut and Dr Amit Raut, the kidney racket kingpin had shot to national limelight with the Gurgaon kidney racket case in 2008.
He fled to Nepal, but was later extradited by the CBI. In 2013, a CBI special court had convicted Amit to seven years of rigorous imprisonment besides slapping a fine of Rs 60 lakh on him. He got bail a year later, but continued kidney extractions in Gurugram, even while he was on bail, through his agent Javed Khan from Mumbai (who was arrested by the Dehradun police on September 11).
He was again arrested in connection with another kidney racket case in Gujarat in March last year, wherein he escaped police custody while being escorted to Anand from New Delhi in August 2016. He was later declared an absconder and a reward of Rs 50,000 was announced against him by Gujarat Police.
In the past, too, a Faridabad court had in 2012 sentenced him to 10 years of rigorous imprisonment, convicting him for negligence in treatment that led to death of three Turkish nationals. He had also been arrested by Delhi Police in 2000 in another kidney racket in Delhi.
Shockingly, Dr Amit, who confessed to police to have performed around 50 renal surgeries in Dehradun in the past two months, is an ayurvedic practitioner and not even qualified to perform a kidney extraction/transplantation surgery.
"He continually used to change names and was found carrying two separate driving licenses even when he was arrested. All the money he used to earn through his illegal activities used to get exhausted every time he got arrested, so he used to start all over again, changing his place of action," Dehradun senior superintendent of police (SSP) Nivedita Kukreti Kumar said.
After fleeing from Gujarat, he got in touch with one Rajiv Chaudhary, the middleman who brokered the deal for a hospital premises in Uttarakhand for Dr Amit.
In Dehradun, his modus operandi was to get poor people from far off states for extracting kidneys and later transplanted them on rich patients, including foreigners at a makeshift operation theater at building at a desolate location on Dehradun-Haridwar highway.
Police said he had an arrangement with a private hospital around 30 km from Dehradun, where the post operative care of the patients were taken. He started his racket in July this year.
"They used to burn all documents related to the case to eliminate any evidence...he told us that around 50 kidney surgeries (including organ extraction and transplantation) had been performed in the Dehradun hospital since July this year," the SSP said.