The growing urban bias of India's vaccination drive
Updated on Jun 16, 2021 04:09 AM IST
A person living in urban India is at least 1.8 times more likely to receive a shot of the Covid-19 vaccine than their counterpart living in the rural hinterland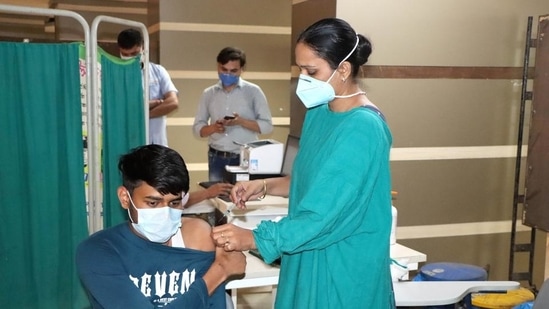 India's massive vaccination drive is becoming skewed towards cities and towns, with the rural parts of the country being increasingly left behind , shows district-based vaccination data analysed by HT.
A person living in urban India is at least 1.8 times more likely to receive a shot of the Covid-19 vaccine than their counterpart living in the rural hinterland — a matter of concern because around 65% of the country's population currently resides in rural districts. The even more worrying trend is that the gap between the coverage of population between the two groups is currently the highest ever recorded, and continues to rise.
Experts said that if this rural-urban gap continues to widen, then it risks hampering India's goal of vaccinating 60-70% of the country's population by the end of year, as a large majority of the population lives in villages.
For the purpose of this analysis and to identify vaccination coverage in urban and rural pockets in the country, India's 700-plus districts have been classified into three categories on the basis of population living in rural areas: urban (under 40% population living in rural areas), mixed (40%-60% rural population), and rural (over 60% rural population).According to the 2011 census estimates, the population share of entirely urban, mixed, and rural districts was 13.6%, 13.6%, and 72.8% respectively. Since there are no estimates available for the demographic distribution across districts by age to estimate their adult population (only those above 18 years of age are eligible for shots currently), the analysis has relied on overall projections of population by the Census of India. For the district-wise administration of jabs, the data has been sourced from Union health ministry's Co-Win dashboard till June 14.
When India's Covid-19 vaccination drive is seen across these three groups of districts, the urban ones, expectedly, have had the largest proportion of people receiving jabs. Even though urban districts account for only 13.6% of India's population, 27.2% of the residents of these districts have received at least one shot of the vaccine till Monday night. To be sure, it is entirely possible that some people from the villages, who are currently working in cities, are getting their shots there. In contrast, in rural districts, where 72.8% of India's population live, only 14.7% of residents have been inoculated with one shot.
Worse still, the contrast is becoming starker as the drive gathers momentum and expands.
With 27.2% of urban residents having received a shot of the vaccine to 14.7% of those living in rural areas having received theirs, the comparison translates into an urban-rural vaccine coverage ratio of 1.8:1. In simpler terms, as things stood on June 8, a resident of urban India was 1.8 times more likely to receive a shot of the vaccine than someone living in rural parts of the country – the biggest gap in coverage since the start of India's vaccination drive.
On May 1, 14.9% of residents of urban districts had received jabs, while 9.4% of the rural population had been covered by at least one shot , an urban-rural coverage ratio of 1.6:1. On April 1, coverage of population in urban and rural areas was 5.3% and 4.1% respectively, translating to a coverage ratio of 1.3:1.
Of the 29.6 million confirmed infections across India till Tuesday night, according to HT's Covid-19 dashboard, 35% have been reported in urban districts, while 47% were in the country's rural areas, and the remaining 18% were in mixed districts. To be sure, the proportion of reported cases in rural areas is likely skewed due to the lack of adequate testing facilities in the country's hinterlands.
"The majority of India still lives in rural parts of the country. And if rural areas are lagging behind in inoculation, and if this gap continues to grow, then it is a worrying trend because it can create a situation where our goal of vaccinating 60-70% of our population to achieve herd immunity by the end of the year will be hurt," said virologist Dr Shahid Jameel, director of Trivedi School of Biosciences at Ashoka University.
"And to address this gap, we have to understand the reason that such a gap is emerging. Is the reason that there are fewer vaccination centres or doses available in rural areas, or is that there more vaccine hesitancy there? I suspect the real cause may be a bit of both of these factors. Once the reason is clear, the government will be able to take remedial measures to fix this gap," Dr Jameel said.
Also Read | Sputnik covid vaccine more efficient against Delta variant: Study
"While it is extremely unfortunate, but it isn't surprising that urban India has greater access to vaccines. I have a suspicion that there a secondary contribution of the fact that vaccination-related information and messaging campaign are much more prominent in urban India as well. The third issue may be that such a large proportion of rural India is dependent on daily wages that it may not be easy for them to travel to primary health centres to get shots," said Dr Satyajit Rath, immunologist and adjunct faculty of Indian Institutes of Science Education and Research (IISER), Pune.
He added that when sets of communities with different proportions of immunised people live in close proximity, it increases the risk of more variants of the virus propping up. "If urban areas achieve say 75% vaccinations are rural India is left with 40% receiving shots, then what we're doing is creating islands of highly immunised communities living in close proximity of large swathes of lower immunised communities where the virus is simmering in a slower rate of transmission. And when there are no travel restrictions between them, then the tide of infections will keep lapping against the urban islands of highly immunised people. And that would mean that the virus would get a prolonged exposure to vaccinated communities, which is basically increasing the likelihood of the arrival of relatively vaccine-resistant strains."
Abhishek Jha contributed to this report
Topics
Close Story
Personalise your news feed. Follow trending topics