Sputnik covid vaccine more efficient against Delta variant: Study
Updated on Jun 15, 2021 05:45 PM IST
Sputnik V, developed in Russia by Gamaleya Institute, is reported to show over 91.6% efficacy against coronavirus.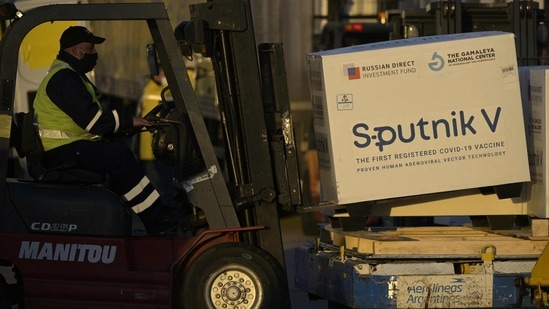 The Russia-developed Sputnik V vaccine has been found to more efficient against the highly transmissible Delta variant of coronavirus disease (Covid-19), which was found in India, according to a study.
The drug has been found to be more efficient against the variant than any other vaccine used to fight the viral contagion in the study, Sputnik V's official handle posted on Twitter.
"#SputnikV is more efficient against the Delta variant of coronavirus, first detected in India than any other vaccine that published results on this strain so far - the Gamaleya Center study submitted for publication in an international peer-reviewed journal," said a tweet shared by Sputnik V.
Developed in Russia by Gamaleya Institute, Sputnik V is reported to show over 91.6% efficacy against coronavirus. The drug has been authorised in 67 countries across the world. The Russian Direct Investment Fund (RDIF) on June 10 announced that the efficacy of the Sputnik V was estimated at 94.3% during a vaccination campaign by Bahrain's ministry of health. However, the World Health Organization (WHO) has not yet approved Sputnik V as an emergency vaccine.
Also read: How Delta variant of Covid-19 is now wreaking havoc across the world
Sputnik V is set to make its entry in India after a rollout is expected in Delhi's Indraprastha Apollo Hospital, based on the number of consignments received by the hospital, news agency ANI reported.
The first phase of the Sputnik V rollout by Apollo Hospitals and Dr Reddy's Laboratories started on a pilot basis on May 17 in Hyderabad and the next day in Visakhapatnam. Sputnik V is also available at Hyderabad's Continental Hospitals.
Apart from Apollo Hospitals, Madhukar Rainbow Children's Hospital in Delhi will also start administering the Sputnik V Covid-19 vaccine to people by the end of this week. The Centre has fixed the price of the vaccine at ₹1,145 per dose.
The use of single-dose Sputnik V in India is expected to significantly boost the country's vaccination drive, which faced hiccups in several states amid a crippling shortage of doses. India, the world's biggest vaccine manufacturer, has been able to vaccinate around 3% of its population.
Personalise your news feed. Follow trending topics