Tortured, injected with growth hormones: 5-year-olds among 11 rescued from Telangana brothels
The police said the children were administered hormonal injections by a doctor so that they could attain early sexual maturity. The doctor charged the traffickers
₹
25,000 for each injection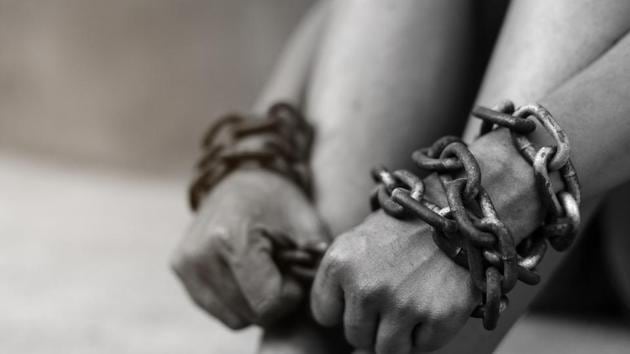 Updated on Aug 02, 2018 12:18 AM IST
Eleven minor girls, including five-year-olds, were rescued by the police in the famous temple town of Yadagirigutta in Telangana's Yadadri Bhongir district from sex traffickers, who allegedly administered sex hormones to them so that they could attain early puberty and pushed into flesh trade.
Eight alleged traffickers from the Dommari community were arrested after a raid on six brothels at Ganeshnagar area of the town on Monday afternoon, Rachakonda police commissioner Mahesh Bhagawat said while speaking to reporters on Tuesday.
Bhagawat said following a tip-off from a local resident, who heard the cries of a girl from one of the brothels, the Yadagirigutta police along with SHE teams, Special Operations Team and officials from Integrated Child Development Scheme raided the house of Kamsani Kalyani and found two girls.
While one of them was Kalyani's daughter, the authorities, on questioning the accused, found that the other girl was bought from child traffickers. Police raided five other houses following the information given by Kalyani and rescued the 11 girls, including four seven-year-olds.
The police said the children were administered hormonal injections by one Dr Swamy so that they could attain early sexual maturity. Dr Swamy charged the traffickers ₹25,000 for each injection, Bhagawat said.
They also found that the girls were physically tortured and were not given proper food if they did not succumb to their pressures.
"They were kept in confinement and the accused were running the flesh trade for around four years. After proper inquiry, PD Act will be initiated against all the accused persons, apart from closing their houses," the commissioner said.
The accused have been identified as Kamsani Kalyani (25), Kamsani Anitha (30), Kamsani Susheela (60), Kamsani Narsimha (23), Kamsani Sruthi (25), Kamsani Saritha (50), Kamsani Vani (28) and Kamsani Vamshi (20) – all residents of the Yadadri Bhongir district.
"The traffickers had bought some children from two agents Krishna Shankar and Kamsani Yadagiri for amounts ranging up to ₹2 lakh each. Some others were picked up from railway stations, bus stations and other public places also," the commissioner said.
The police booked cases against the accused under Sections 366A (procuration of minor girl), 371(1)(v) (Habitual dealing in slaves), 376 (rape) read with 114 (abettor present when offence is committed), 372 (selling minor for purposes of prostitution), 373 (buying minor for purposes of prostitution), 120(B) (criminal conspiracy) of the Indian Penal Code.
"They were also booked under Section 17 (Abetment) of the Protection of Children from Sexual Offences (POCSO) Act besides relevant sections of the Immoral Traffic (Prevention) Act (ITPA)," Bhagawat said, adding that the rescued minors have been sent to a home.
The National Crime Records Bureau's (NCRB) data for 2016 show more than 8,000 cases of human trafficking were reported in India in that year and 23,000 victims, including 182 foreigners, were rescued.
Of the total 15,379 victims in these cases, 9,034 (58%) were below the age of 18 years, stated the latest NCRB statistics on crime.
The bureau has said 63 people are rescued from human trafficker every day on across the country.
Topics
Close Story