Union budget 2018: A budget for Bharat, but middle class Indians sulk
Updated on Feb 02, 2018 02:19 PM IST
Though finance minister Arun Jaitley's budget has significant schemes in healthcare and the standard deduction for salaried class, the only middle class cohort to truly benefit is the senior citizen.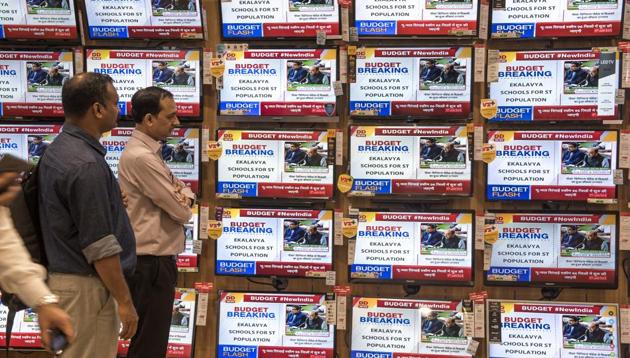 There were few happy faces in India after the Budget speech got over, except for the senior citizens. Since we don't have representatives of Bharat in the TV studios or as talking heads, their reaction does not get captured. Budget 2019 has given a big push to Bharat and tightened India a bit more. Senior citizens should be happy. The morning laughing club should be laughing harder tomorrow. They have reason to because they are possibly the only middle India cohort that gets to take home more money. Interest income for them will be exempt from tax up to Rs 50,000, up from Rs 10,000. This means that if a 60-plus person had an income of, say, Rs 10 lakh as interest, she will now be taxed on Rs 9.5 lakh, other exemptions and deductions remaining the same. The deduction on premiums on health insurance is up from Rs 30,000 to Rs 50,000. This is good because privately bought health covers for senior citizens are very expensive. The Pradhan Mantri Vaya Vandana Yojana has been extended till March 2020, and the Rs 7.5 lakh-limit is doubled. A 60-plus person can now get an assured 8.3% annual return on Rs 15 lakh of investment. A couple that has invested Rs 30 lakh, can earn an interest of Rs 2.49 lakh a year from it.
Salary earners were first patted on the back by the FM and given a standard deduction of Rs 40,000. But the devil is in the detail — the real benefit was reduced to just Rs 5,800 a year, or just Rs 1,810 in tax saved for the 31.2% tax slab. Yes, the additional cess of 1% takes up the 30.9% tax bracket even further. The FM has given the standard deduction in lieu of the current exemption for travel and medical reimbursements from the place of work. Both these exemptions total up to Rs 34,200, giving us a benefit of just a few thousand rupees.
The much dreaded long-term capital gains tax finally made a re-entry into our lives. Profits on equity on which the securities transaction tax has been paid and that have been held for more than one year will now be taxed at 10% if they exceed Rs1 lakh in a year. This is to harvest some of the Rs 3.6 trillion-profits made in FY18. But your gains made have been grandfathered as on January 1, 2018. Suppose you had Rs 5 lakh in long-term profits as on January 31, 2018, these will not be taxed. Profits made from then on, will be taxed. The Budget also plugs a loophole being used by mutual funds, and now a 10% tax will be levied on distributed income by equity oriented mutual funds.
The big announcement in the Budget takes the successful Rashtriya Swasthya Bima Yojana (RSBY) that insured the poor for Rs 30,000 on medical expenses, further. The National Health Protection Scheme will hike this to Rs 5 lakh per family for each year for secondary and tertiary care hospitalization. Over 100 million families, or 500 million people, will benefit. This will be the world's largest government-funded healthcare programme. The government will hopefully put in tighter controls on both insurance companies and hospitals on claims and costs. It must understand that as a large buyer it can beat down premiums and force hospitals to behave better. I expect an overall benefit as the sectors see a clean-up.
(Monika Halan works in the area of consumer protection in finance. She is consulting editor Mint and on the board of FPSB India. She can be reached at monika.h@livemint.com.)
Personalise your news feed. Follow trending topics