UP teen loses Bitcoins to US fraud, threatens to blow up Miami airport
Updated on Nov 03, 2018 11:35 PM IST
An 18-year-old class 12 student was tracked and questioned by Uttar Pradesh ATS for allegedly making several calls to Miami airport in the US and threatening to blow it up, the state police chief said on Saturday. An FIR has been filed against him but he has not been arrested.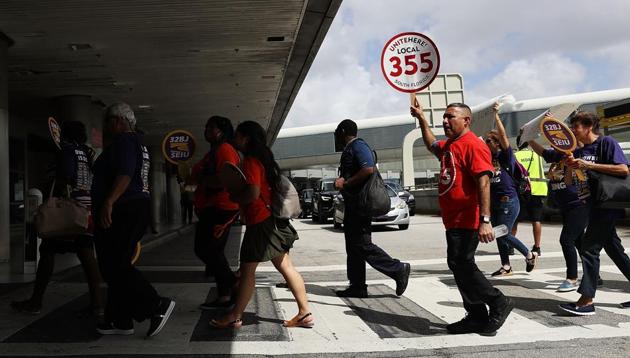 Lucknow |
HT Correspondent
Unhappy at what he saw as the US Federal Bureau of Investigation (FBI)'s uncooperative stance in helping him recoup a fortune made off Bitcoins, and lost to a US-based fraud he encountered in a chat forum, an 18-year old boy from Uttar Pradesh's Jalaun district made several calls to the US agency threatening to "blow up" Miami airport, resulting in him being charged under the Indian Penal Code and the IT Act.
Local police said he called FBI?at least 50 times in the last month. The Class 12 student allegedly made the threat calls after not getting help from the American investigative agency over a Bitcoin — a popular crypto-currency — deal in which he was apparently duped by a man in the US, police officials said.
Uttar Pradesh director general of police (DGP) OP Singh said the boy's identity was not being disclosed and he was not being arrested as he was just 18 years and three months old.
However, multiple charges have been slapped against him under sections of the Indian Penal Code (impersonation/issuing threats) and the IT Act (for making calls over the Internet to the FBI/Miami airport authorities) and an FIR has been lodged, he said.
According to the DGP, an investigations revealed that the boy, known to be "a bright student", made at least 50 calls to FBI authorities between October 2 and 31 after accessing their numbers from the Internet.
The boy used a fake identity and a fake e-mail ID to make the calls, all over the Internet.
He also made five calls to Miami airport authorities, threatening to attack the airport by barging into it equipped with an AK-47 assault rifle, grenades and a suicide belt, the DGP said.
After the FBI approached India's National Investigation Agency (NIA) for help in tracking down the caller, the NIA officials got in touch with the Uttar Pradesh police, whose anti-terrorism squad then set about tracking the caller.
During interrogation by the police, the boy reportedly told the investigators that he had taken $1,000 from his father, who runs an NGO, to invest in Bitcoins and earned huge profits over the past five months.
But a "fraudster" he met over an online chat forum duped him of all his money after assuring him that he could make even bigger profits, the DGP said.
Personalise your news feed. Follow trending topics