Venkaiah Naidu bats for simultaneous polls from Parliament to panchayat
Updated on Dec 16, 2017 10:20 PM IST
Prime Minister Narendra Modi has proposed holding simultaneous polls for the Lok Sabha and state assemblies.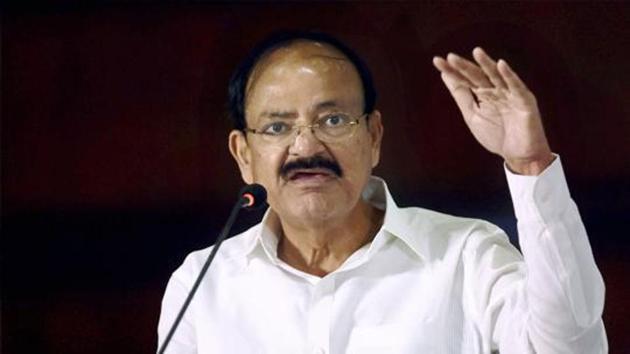 Press Trust of India, Panaji |
Press Trust of India
Vice president M Venkaiah Naidu on Saturday advocated simultaneous elections "from Parliament to panchayat" and their completion within a month.
"I feel there is every need for holding elections together. It is not because of this government or that government. It is because it has become a regular activity for political parties to have three-point programme- election, selection, corruption," Naidu said, speaking at 'India Ideas Conclave' 2017.
"There has to be simultaneous elections at all levels, from Parliament to panchayat, everything should be finished in one month. For that you need a political consensus," he said.
With some or other election always around the corner, politicians can't focus on developmental issues, he said.
Earlier this week, speaking at an all-party meeting ahead of the winter session, Prime Minister Narendra Modi had reiterated his proposal of holding simultaneous polls for the Lok Sabha and state assemblies.
Naidu also urged politicians to refrain from doing politics over community, caste or religion.
"Terror has no religion. Earlier Western countries did not understand our pain because one of our neighbours was aiding, funding, training terrorists and trying to destabilise our economy," the vice president said.
India wants friendly relations with all countries including Pakistan, he said.
"(But) We cannot allow any country to interfere in the internal affairs of our country and try to create tension. When there is tension on border, how can we give attention to development?" he said.
Referring to frequent disruption of Parliament, the vice president, who is also the ex-officio Rajya Sabha chairman, said there should be constructive debates.
"Rather than trying to know what is the record of this party or other, people will ask us what is the record of Parliament. We have to see that Parliament functions without disruption," he said.
Naidu recalled that former president Pranab Mukherjee had once said legislators should 'discuss, debate and decide'. One shouldn't use the fourth 'd', that is 'disrupt', Naidu added.
It is opposition's duty to corner the government and ask questions, he said. "In parliament, if you want to contribute you can talk out and if you want to protest you can walk out," he quipped.
In democracy, everyone must be tolerant of others' views irrespective of their numbers, but "you must be tolerant towards the mandate of the people also, both are important", the vice president said.
"Let the government propose, the opposition oppose and let the house dispose, rather than having this disturbances," said Naidu.
Personalise your news feed. Follow trending topics