Videos of Shambhu Regar, in jail for killing Muslim labourer, show him abusing Muslims
Feb 19, 2018 11:58 PM IST
Two videos purportedly released by Shambhu Lal Regar, who is in Rajasthan's Jodhpur Central Jail for allegedly hacking a Muslim labourer, were being widely circulated on social media.
The man who shot into the limelight for hacking a Muslim labourer to death and then burning him, all on video, all the while ranting against jihadis is at it again— this time from the safe confines of Rajasthan's Jodhpur Central Jail.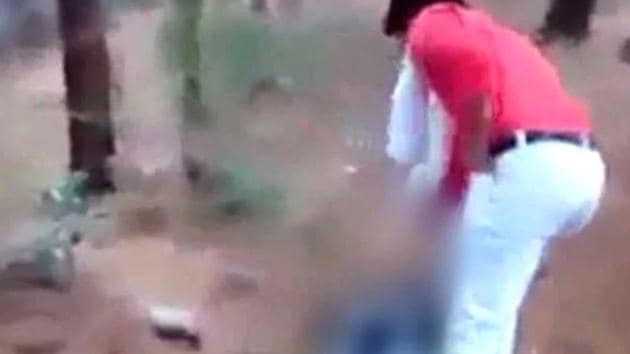 On Monday, two videos purportedly released by Shambhu Lal Regar, were being widely circulated on social media.In one video, he alleges there is a threat to his life from his cellmate Vasudev Brahman, who he said, is from West Bengal, the same state as the man Regar murdered, Mohammad Afrazul. In the other, he continues his rant against Muslims. Hindustan Times couldn't independently verify the authenticity of the clips.
Additional director general of police (prisons) Dr Bhupendra Singh confirmed the video has been shot inside the prison and has been uploaded from there. "We have ordered an inquiry into how a mobile phone made its way into a prison cell and other lapses. Inspector General of Police (prisons) is investigating the case," he said.
Jail superintendent Vikram Singh lodged an FIR under the Information Technology Act and under the Prisons Act at the Ratanada police station.
"The report said the jail authorizes have come to know about a video posted from ward Number 3 of the central jail. The authorities have not recovered any mobile phone during search of the ward. They were interrogating Regar and will inform the police accordingly," said an officer of the police station, who was not willing to be quoted as he was not authorised to speak to the media.
Rajasthan Congress chief Sachin Pilot said the videos are a breach of prison security and show the connivance between the people responsible for providing security and criminals. "A high level enquiry should be ordered in the incident and accountability of police administration should be ensured.
On 6 December, Regar murdered Afrazul, a 48-year-old labourer from West Bengal's Malda, in Rajsamand, accusing him of so-called love jihad.
He also released a video of the crime on social media, ranting against Muslims and Islam. The murder sparked nationwide outrage and stirred communal tensions in several areas of the state.
Read: Who is Shambu Lal Regar? A man who didn't seem capable of murder, say neighbours in Rajasthan