Vijay Mallya extradition case highlights: Russia's prison conditions better than India's, says tycoon's lawyer
Updated on Dec 05, 2017 09:46 PM IST
Vijay Mallya appeared in a UK court to defend himself against charges in an extradition case. See live updates of case here.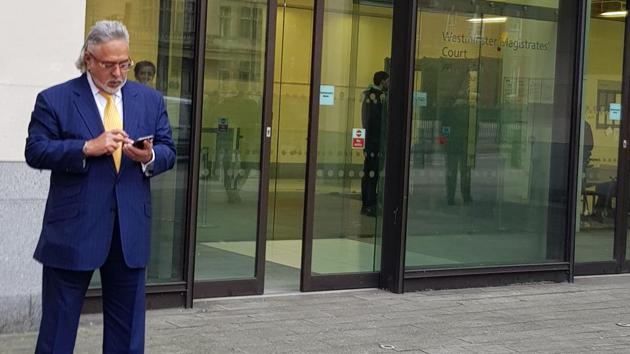 Vijay Mallya was back in court for a second day in London as part of the trial over an extradition request from the Indian government over charges that he misled banks into giving loans to his airline company.
Mallya appeared before the Westminster magistrate's court on Monday, even as the prosecution furnished details of the various loans Kingfisher Airlines had "fraudulently" taken from Indian banks.
Lawyer Clare Montgomery said there is no evidence to support the government's claim that Mallya misused loans he obtained to support ailing Kingfisher Airlines in 2009. Prosecutors say he used the money to support his Formula One racing team and other endeavors.
Here are the highlights:
9:35pm: Mallya's trial ends for the day. It will resume at 10am on Thursday.
8.40pm: Montgomery tells court that CBI has a long history of being influenced by political masters. Mallya, the lawyer argues, was being politically victimised by the BJP, the Congress, the Shiv Sena trying to make political capital on the assumption that there has been fraud.
Aviation expert Humphreys is now deposing on Indian aviation industry.
8.31pm: Mallya's lawyer says "Russia is a lot better than India" on the issue of prison conditions, alleging that nothing changes in practice despite court rulings on prison conditions, including in Arthur Road jail in Mumbai where Mallya js likely to be held if extradited.
"That is interesting," says judge Arbuthnot.
8.15pm: Mallya offered to pay 80% of the sums involved but Montgomery claims that banks were under political pressure not to accept his offer.
8pm: Poverty of material provided by India, Montgomery says, refuting charges against Mallya. She terms the basis of some claims made by India as being "utterly misconceived".
7.44pm: Hearing resumes after a lunch break. Montgomery says India's allegation that Mallya had "stolen" 5 million dollars credit from Airbus and put it in Kingfisher is untrue because his vehicle that received the amount actually paid it to Kingfisher in 2006. Indian officers making serious allegations gives rise to concern why they were being made, she adds.
6.17 pm: Mallya's lawyer says it is no fraud to pay processing fees to IDBI out of the same loan it gave to Kingfisher. India yesterday said this was among payments made from loan funds that were not supposed to have been made under the loan criteria.
6.08 pm: Montgomery now refuting India's charge of Mallya playing 'round robin' - using loan from one bank to pay off another in a different bank. All disbursement from bank loans were for the company's benefit and within their remit, she adds.
6.02 pm: Nothing to suggest corporate and personal guarantees by Mallya and Kingfisher to secure bank loans were deliberately fraudulent, as alleged by India, Montgomery submits in the court of Emma Arbuthnot.
5.56 pm: On Mallya's private jet, Montgomery says the issue is whether there was a charge made on Kingfisher airlines, says there is no evidence of that, as alleged by Mark Summers on India's behalf on Monday.
5.51 pm: Montgomery refutes India's charge that corporate guarantees given in 2009 by Kingfisher to secure loans were worthless.
5.16 pm: Montgomery refutes India's case that lies were told regarding Mallya's net worth in April 2009, saying India first claimed it was based on lies and then said the assessment was understated. Delicious irony in this, she adds. His net worth was cited in personal guarantees while seeking bank loans.
5.01 pm: Montgomery refutes India's charge that the second brand valuation of Kingfisher (apart from the one by Grant Thornton) was concealed and suppressed.
4.50 pm: Simply no evidence that any bank was misled about the brand value of Kingfisher, says Mallya's lawyer.
4.47 pm: India's claim that loans were obtained fraudulently by Mallya and Kingfisher is nonsensical, says Montgomery. In April 2008, Grant Thornton valued Kingfisher brand at Rs 3400 crore. To India's claim that it was based on overly optimistic projections submitted by the company, she says it was not an attempt to mislead. Banks had all information they needed, she adds.
4.25 pm: Was it dishonesty or business failure, asks Montgomery. Could a reasonable jury reach a safe conclusion that this was a deliberate plan to go to IDBI Bank to raise the money and default on that loan... or was it a business failure?" she asks.
He not only ended up with large losses, but also lost control of jewel in the crown, the UB Group, she says.
4.02 pm: Whatever Mallya did is not deliberately dishonest, but out of desire to fight his corner, his lawyer says. India has accused him of being dishonest.
3.59 pm: All disbursement by Mallya and Kingfisher from bank loans were made for benefit of the company, his lawyer says. India's case is that loans were used to meet expenses other than for what they were meant for.
3.53 pm: Aviation expert Humphreys to depose today on Mallya's behalf. Montgomery says prosecution lawyer Mark Summers made charges against Mallya yesterday on false premise.
3.43 pm: Impossible to palm losses on to banks, as alleged by India, says his lawyer. Charge that Mallya gave false representation to get loan from IDBI in 2009 is extraordinary, says Montgomery.
3.41 pm: There are competing narratives, no evidence, against Mallya, his lawyer says. GoI charge against Mallya is financially incoherent, without evidence,says Montgomery.
3:35 pm: There is no evidence against Mallya, his lawyer Clare Montgomery said as the trial began. "There are competing narratives, but no evidence against Mallya," his lawyer said.
(With agency inputs)
Personalise your news feed. Follow trending topics