Take my money and credit for recovery, Mallya tells PM in series of tweets
Feb 14, 2019 03:14 PM IST
In a series of tweets on Thursday, Vijay Mallya pointed out to Prime Minister Narendra Modi's speech in Parliament referring to those who have fled the country after allegedly committing financial crimes.
Contesting India's extradition bid in UK courts, controversial businessman Vijay Mallya on Thursday took to Twitter to urge Prime Minister Narendra Modi to instruct banks to take his money against the loans extended to his companies.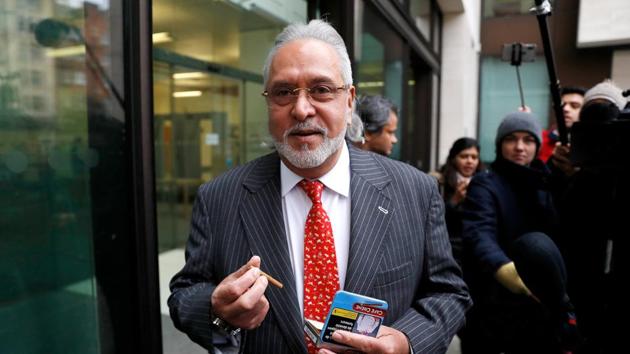 "I respectfully ask why the Prime Minister is not instructing his Banks to take the money I have put on the table so he can at least claim credit for full recovery of public funds lent to Kingfisher", he said in a series of tweets.
Mallya's latest statements add to his oft-repeated claim inside and outside courts that he is willing to settle with Indian banks, but for unexplained reasons his offer is not being taken up. This reluctance, he has suggested, could be for political reasons.
Mallya's legal team is in the process of applying for a leave to appeal in the Court of Appeal against the home secretary Sajid Javid's February 4 decision to extradite him to India, based on the December 10 ruling of the Westminster Magistrates Court. He has 14 working days since February 4 to apply.
Also| In report card to Lok Sabha, PM Modi's sharp dig at Rahul Gandhi
Expressing frustration at the media narrative that he stole money and fled from India, Mallya said: "The Prime Ministers last speech in Parliament was brought to my attention. He certainly is a very eloquent speaker".
"I noticed that he referred to an unnamed person who 'ran away' with 9000 crores. Given the media narrative I can only infer that reference is to me".
"I have made the offer to settle before the Hon'Ble High Court Court of Karnataka. This cannot be dismissed as frivolous. It is a perfectly tangible, sincere, honest and readily achievable offer. The shoe is on the other foot now. Why don't the Banks take the money lent to KFA?"
Referring to reports of the Enforcement Directorate's alleged claims that he had hidden his wealth, Mallya said: "If there was hidden wealth how could I put approximately 14,000 crores worth of assets openly in front of Court? Shameful misleading of public opinion but unsurprising".
Earlier this month, Mallya sought to question the narrative that he 'ran away' with Rs 9,000 crore from banks, asking if it is justified when his assets worth Rs 13,000 crore had been reportedly seized.
Expounding his version of events in tweets, he had claimed that "The DRT (debt recovery tribunal) Recovery Officer recently attaches my group assets worth over 13,000 crores in India on behalf of the Consortium of Banks".
"Yet the narrative is that I ran away with the claimed amount of 9000 crores causing loss to Public Sector Banks. Where is Justice and fair play? Every morning I wake up to yet another attachment by the DRT recovery officer".
"Value already crosses 13,000 crores. Banks claim dues including all interest of 9,000 crores which is subject to review. How far will this go and well beyond? Justified??"
The 63-year-old businessman is on bail on an extradition warrant executed by Scotland Yard in April 2017 after Indian authorities brought fraud and money laundering charges amounting to Rs 9,000 crore against the former Kingfisher Airlines boss. Mallya flew out of India to the UK in March 2016 around the same time, the government says, agencies closed in on him for bank fraud.
On January 5, Vijay Mallya became the first Indian businessman to be declared a fugitive economic offender by a special court in Mumbai.
A fugitive economic offender is a person against whom an arrest warrant has been issued for committing an offence and who has left India to avoid criminal prosecution.
The Central Bureau of Investigation (CBI) and Enforcement Directorate have launched probes against him over allegations levelled by a consortium of 17 banks that provided loans to the now-defunct airline.
Also read| PM Modi, Amit Shah donate Rs 1,000 to BJP fund. It is a message