'Why should we exempt political parties?' Maneka Gandhi urges for internal sexual harassment panel
Updated on Oct 18, 2018 11:16 PM IST
Maneka Gandhi said she has written to six national parties and 59 regional parties to form internal complaints committee against sexual harassment and post information on it on their website.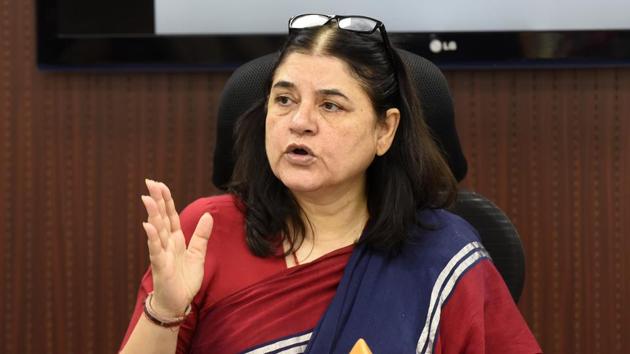 Union minister of women and child development (WCD) Maneka Gandhi said on Thursday that her ministry has requested all political parties to constitute an Internal Complaints Committee (ICC) as mandated under the sexual harassment at work act, 2013 in a move that seems prompted by the ongoing #MeToo movement in India.
While there haven't been any recent instances of workers of political parties alleging sexual harassment while at work in the context of #MeToo, there have been past instances across several parties.
"I have requested the Presidents/In-charge of all recognised National and State political parties to constitute the Internal Complaints Committee (ICC)...this is in view of the fact that political parties employ a large number of personnel, including women, in their offices. It is our prerogative to ensure that women enjoy a safe working environment," Gandhi tweeted.
This comes a day after the Centre for Accountability and Systematic Change (CASC) sent a legal notice to the union minister for women and child development, Maneka Gandhi, requesting for penalty against political parties for failing to protect women as per law.
"The #MeToo movement as of now is gravitating towards the media and fashion industry. Allegations against (journalist-turned politician) MJ Akbar have been made and they relate to an earlier time period. However, there are instances of sexual harassment happening in the present time as well," the notice said.
With regard to '#MeToo', the national commission for women (NCW) on Thursday said it has received multiple formal written complaints from women.
"NCW is in receipt of formal written complaints from women who have bravely come forward about instances of sexual harassment at their workplace," NCW said in an official statement.
Congress spokesperson Pranav Jha said that Maneka Gandhi's words are symptomatic of a culture of lip service by the BJP and its leaders.
She should remember that the most far reaching reform came by way of the Criminal Law Amendment Act, 2013 which completely altered the law on the subject of sexual harassment and assault in favour of women, he said.
Jha added that the demand today is not for new laws, but a demand to implement existing ones.
Amba Salelkar, advocate and fellow at the Inclusive Planet Centre for Disability Law and Policy in Chennai, said, "The sexual harassment at workplace act applies to a large range of organisations and hence will definitely apply to political parties as well."
"But the way political parties are structured is quite different and has to acknowledge the fact that there is a power imbalance when it comes to political leaders and people coming into contact with them in a workplace context.
"So merely asking to form ICC's is not enough. There is a need to work on promoting a zero tolerance for sexual harassment within political parties," added Salelkar.
Personalise your news feed. Follow trending topics