With 11,000 volunteers, RSS quietly makes its mark on Bihar flood relief
Sep 02, 2016 03:51 PM IST
Quietly and unobtrusively, the ideological parent of the BJP - the Rashtriya Swayamsewak Sangh (RSS) is making its mark among the Bihar flood victims.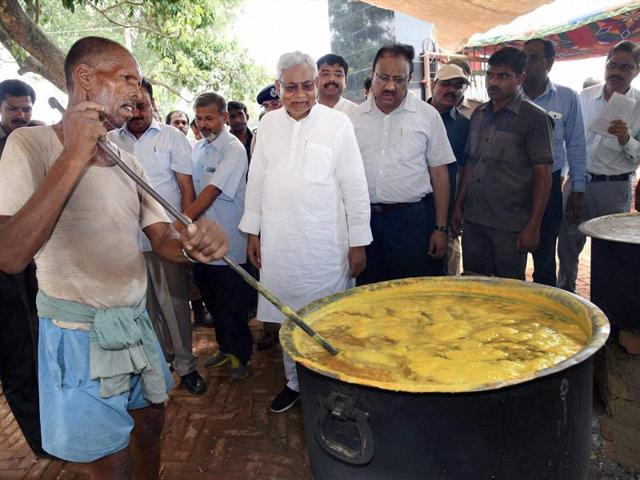 Activists of six RSS affiliates, namely, Sewa Bharati, Ganga Samagrah, Vanvasi Kalyan Ashram, Bajrang Dal, Akhil Bharatiya Vidyarthi Parishad and Vishwa Hindu Parishad, have fanned out in the state's flood-hit districts to provide relief including food, medicines and survival apparatus to the victims.
"About 11,000 of our workers are in the service of the flood victims. We have reached out to about 66,000 victims so far. We are supplying them food packets and medicines every day", said Amarendra Kumar Singh of the RSS who is in overall charge of relief operations.
"Our relief efforts are concentrated in marooned, remote villages which we reach by hiring private boats. This is never easy as boats are scarce. However, these are villages the government agencies have not been able to reach," Singh claimed. It's a claim the state government has rubbished.
The relief work by the RSS affiliates is in contrast to Bihar's main opposition party - the BJP - which is largely perceived to have confined its flood relief activism in the state to pressurising the state government to do more for the victims of the calamity that has affected over 35 lakh people spread across 12 districts of the state.
Although assembly elections in Bihar are not due for another four years, the RSS outreach stands to bring it closer to large sections of other backward classes and extremely backward castes, which constitute a bulk of flood victims.
These classes were believed to played a big role in deciding the outcome of the November 2015 assembly poll in which the RJD-JD (U)-Congress 'grand alliance' crushed the BJP-led NDA, winning 178 of the 243 assembly seats.
No wonder, RSS' Singh said the relief efforts by its affiliates were made all the more harder by discouragement from the government machinery. "At times our boats laden with relief materials have been seized. At another time, we were told not to use our banner on the relief boats," Singh added.
Senior BJP leader Sushil Modi said the government did not want any private agency or party to take credit for the relief work. "That is why NGOs have been debarred from visiting government relief camps," he added.
Citing another example, Modi said a private body serving food to flood victims at Bakhtiarpur, about 40 km east of Patna, was pulled up by a local officer for serving food on leaf plates instead of stainless steel utensils.
"They were also warned that a security situation may arise. So they wound up and left," he added.
Bihar minister for disaster management Chandra Shekhar hit back, saying if private agencies were allowed in relief camps there would be anarchy. "An impression should not gain ground that the government is doing nothing for flood victims", he added.
Shekhar said the RSS' claim to providing flood relief was just hot air. "They are nowhere to be seen. Besides, the union government, controlled by the RSS, is doing nothing for flood victims. Central ministers do aerial surveys and return to Delhi without giving any anything," he rued.