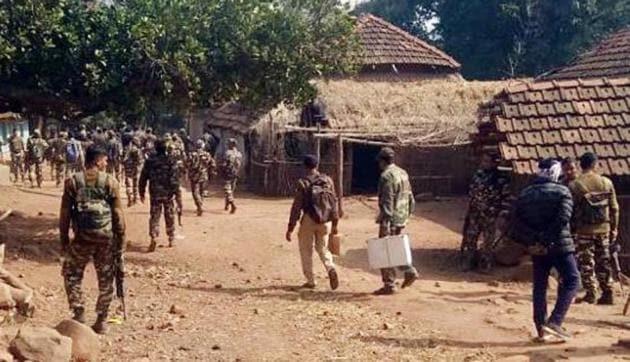 Withdraw cases against tribals in Maoist belt, says C'garh panel
The Justice Patnaik panel was set-up in March with a mandate to review cases involving more than 23,000 tribespeople.
UPDATED ON DEC 04, 2019 07:55 AM IST
A committee appointed by the Chhattisgarh government to review cases against scheduled tribes in the state's Maoist-insurgency afflicted region has, in its first report, recommended the withdrawal of over 300 cases registered under the local excise law, and said members of the community may have been alienated from the mainstream on account of large number of criminal cases pending against them. This may have even pushed them to Naxalism, the committee said.
Headed by Justice AK Patnaik, a retired judge of Supreme Court, the committee has also reviewed another set of 312 cases registered under various sections of the Indian Penal Code (IPC) and anti-drug law (Narcotics Drugs and Psychotropic Substances Act) that can either be withdrawn without the approval of Central Government or closed after the accused voluntarily apply for a plea-bargain. The panel has sought a response on this from Director General of Police, Chhattisgarh and will make its final recommendation after receiving his report.
The Justice Patnaik panel was set-up in March with a mandate to review cases involving more than 23,000 tribespeople. The terms of reference of the panel were finalized on September 11 and include examining cases registered and pending under the IPC, National Security Act, Unlawful Activities (Prevention) Act, Excise Act and other central laws. While 16,475 tribespeople are accused by police in a range of cases, another 6,743 are being held as undertrials. The areas where these cases are languishing are Bijapur, Sukma and Bastar districts. The state's Congress government announced the constitution of the panel after it was voted to power in a landslide victory last December.
The report, which has been reviewed by HT, lists 313 excise cases for withdrawal. Being illiterate the members of ST community were unaware of amendments made to the excise law from time to time, changing the limit of liquor one can possess, says the report citing the reason for such a high number of cases under Excise Act.
"The members of the Scheduled Tribes consume alcohol during their customary ceremonies. The alcohol that they consume is mostly locally brewed country liquor. They have been found to be in possession of alcohol beyond the limits prescribed by the Chhattisgarh Excise Act. The limits prescribed have been changed from time to time. Members being mostly illiterate were not aware of the law as amended. Consequently, a large number of cases have been initiated against them and they are feeling harassed by the court cases and also alienated, which may have added to the growth of Naxalism in the Scheduled Tribes areas," read the panel's report.
The other panel members are CK Khaitan, additional chief secretary, Chhattisgarh's home department; DM Awasthi, DGP, Chhattisgar, Vivek Ranjan Tiwari, state's Additional Advocate General (AAG); Arun Dev Gautam, home secretary; DD Singh, secretary, tribal welfare and Amit Kumar Xalxo, Commissioner, Bastar.
Supreme Court advocate Vrinda Grover said its time the state government takes corrective measures and steps to release tribespeople languishing in jail. "The panel's report and conclusive finding is relevant. Data suggests there is overcrowding in jails of South Chhattisgarh. The government should move forward and implement the recommendations made by Justice Patnaik panel. It has been noticed that most of the cases result in acquittal. The committee should look into this aspect as well."
Close