Dalit man flogged to death in Gujarat factory, five arrested
Updated on May 21, 2018 11:06 PM IST
Mukesh Vaniya, 40, his wife, Jaya, and another person were collecting trash near a factory on the outskirts of Rajkot when they were attacked by its workers on suspicion of theft, police said.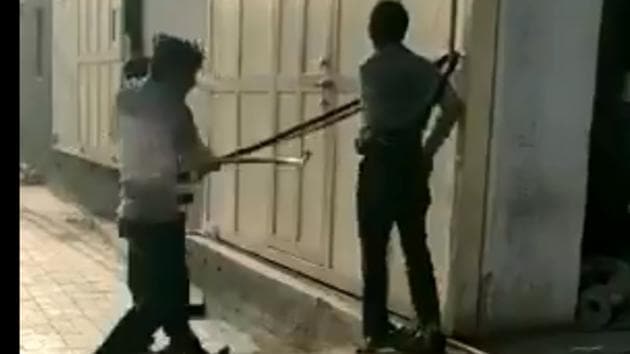 Five people, including a minor, were arrested on Monday for flogging a Dalit man to death in Shaper, on the outskirts of Rajkot, Gujarat. The accused also assaulted two women related to the victim.
Police said that Mukesh Vaniya, 30, was tied to the gate of a factory owned by Jayshukh Radadiya and beaten to death by Radadiya, Chirag Vora, Divyesh Vora, Tejas Zala and a minor. They also beat Vaniya's wife, Jaya, and their relative, Savita.
Vaniya had moved with his wife to Rajkot four days ago from Parnala village in Surendranagar district. Jaya said they had moved because she required treatment for a cardiac ailment.
"Seeing us around the factory, they (the accused workers) inquired about our caste. When we said we are chamar (Dalit), they asked us to clear the garbage to which we refused," Jaya told HT. She said the accused first verbally abused them and then became violent, saying she and Savita were beaten up with belts. "Soon they tied my husband to the gate and told us to leave or they would kill us," Jaya said.
She and Savita returned with help, but Vaniya died on the way to Rajkot Civil Hospital.
Deputy superintendent of police DM Chauhan said five people, including a minor, have been arrested after an FIR was registered on charges of murder and under the SC/ST Atrocities Act.
The police said one of the accused had filmed the crime, which was also captured by the CCTV camera installed at the factory. "We have seized the video and the CCTV recording,'' DSP Chauhan said. Vadgam MLA Jignesh Mevani later released the video on social media.
The DSP said the accused have claimed that the three had tried to steal trash. "We are investigating both versions," Chauhan said.
The family claimed Vaniya's body after the government released a compensation of ~8 lakh, and returned to Parnala village to perform the last rites.