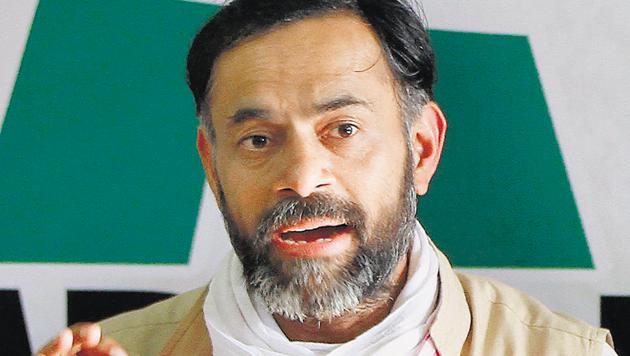 Yogendra Yadav alleges income tax raid at sister's hospital in Rewari on PM Modi's behest
Swaraj India leader Yogendra Yadav said the Narendra Modi-led government was targeting his family.
Hindustan Times, New Delhi | By HT Correspondent
UPDATED ON JUL 11, 2018 10:45 PM IST
Swaraj India leader Yogendra Yadav on Wednesday alleged that the Income Tax (I-T) department had raided his sister's hospital in Haryana's Rewari because the Narendra Modi government wanted to intimidate and "silence" him -- an allegation the department denied.
A team of the I-T department from Gurugram conducted raids at Kalawati Hospital and Kamla Nursing Centre run by Yadav's sister and brother-in-law at the Shiva Chowk neighbourhood in Rewari. The raids were going on till the time of filing this report.
Surabhi Ahluwalia, spokesperson for the Central Board of Direct Taxes (CBDT), said three premises of the two hospitals are under an I-T probe and till now "we have found evidences of unaccounted income including cash of Rs. 20 lakh at the moment while the searches are still on."
She added: "We have also found the evidence of purchase of jewellery from (fugitive jeweller) Nirav Modi by the family members in which part payments have been made in cash," she added.
Yadav had earlier tweeted that the government wanted to "intimidate" him because he (Yadav) had recently launched an agitation to get farmers better remuneration for their crops and a ban on liquor shops in Rewari.
"Modi regime now targets my family. Two days after my 9-day padyatra in Rewari and launching of agitation for MSP (minimum support price) and against liquor thekas (shops), a massive IT raid is on at the hospital-cum-nursing home of my sisters (sic) in Rewari. "Pl(ease) search me, my home, why target my family?," he tweeted.
Ahluwalia said: "It's incorrect to say that the raids are an entirely political move. It is just incidental that the persons who are being searched happen to be relative of Yogendra Yadav."
Close