Yogi Adityanath says no one should break law in the name of cow protection
The chief minister was answering to a question during an interview with a TV news channel.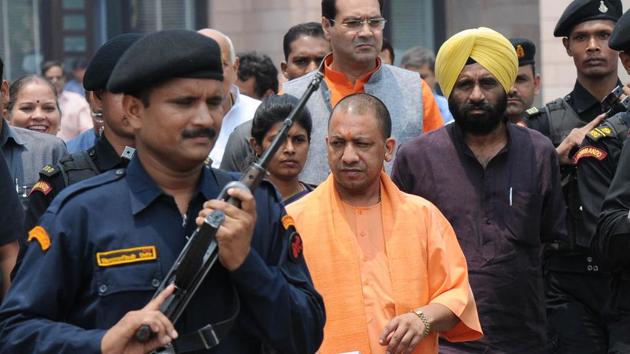 Updated on Jul 01, 2017 08:41 PM IST
IANS, New Delhi |
Indo Asian News Service
Uttar Pradesh chief minister Yogi Adityanath said that people should not take the law into their hands in the name of cow protection and the government will not spare anyone involved in criminal activities.
In an interview with Zee News channel, Adityanath also said that triple talaq was a social problem and suggested that the parties involved in the Ayodhya dispute should try and reach a conclusion.
Answering a query on Prime Minister Narendra Modi's recent remarks against cow vigilantism, Adityanath said his government was doing its work.
"I feel the government is doing its work and no one should take law in their hand... We want to assure that there would be no action against any innocent person but the state government will not spare any criminal or mafia," Adityanath said.
Answering a query on triple talaq, Adityanath said it would be better if the Muslim community itself finds a solution to the issue.
"Triple talaq is a social problem. It would have been better if the Muslim community itself finds a solution. I am happy that Muslim women themselves have come forward. We have created a cell and said that their dignity should be protected and also their self reliance", Adityanath said.
On the Ayodhya dispute, Adityanath said the state government was not a party to the dispute.
"(Ayodhya) matter is pending before the Supreme Court. The Chief Justice of India gave some good suggestions. State government is not a party before the top court. I had gone to Ayodhya and said that both sides together should come to some decision... whatever cooperation is required at state level, we will provide," he said.
Answering a question on slaughter houses, Adityanath said they had implemented the directions of the National Green Tribunal and the Supreme Court and those who meet the norms had not been touched.
Adityanath said his government had made a provision in the budget to waive over Rs 36,000 crore of farmers loans and asked the banks not to issue notice to the farmers who are covered under the waiver decision.
He also said his government takes guidance from the Centre whenever needed.
"I go to party (BJP) president (Amit Shah) and Prime Minister Modi for guidance," he said.
Adityanath also spoke on the rollout of the Goods and Services Tax (GST) saying it would make India an economic superpower and lead to the prosperity of all sections of people.
Close Story
Personalise your news feed. Follow trending topics