Ravindra Jadeja's axing highlights Indian cricket team's spin conundrum
Updated on Sep 25, 2017 06:25 PM IST
After being named in the squad for the first three ODIs vs Australia cricket team, Ravindra Jadeja didn't get a match and was dropped from the Indian cricket team for remainder of the series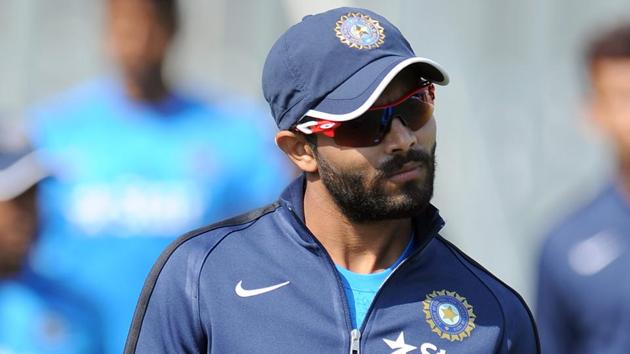 Hindustan Times, Mumbai |
Devarchit Varma
Shortcomings tend to get ignored when teams are on a winning spree. But in the case of the Indian cricket team, the lack of clarity over Ravindra Jadeja's role, especially in the limited-overs format, is too glaring to be brushed aside. An integral part of the Test team, Jadeja seems to be at the mercy of the selectors in the shorter formats.
On Sunday, Ravindra Jadeja was dropped from India's squad for the remainder of ODIs against Australia. The all-rounder, who was called in from his much-needed rest period, remained with the squad for the first three ODIs but didn't feature in a match.
The 28-year-old, who was 'rested' before the ODIs began, was called up when Axar Patel suffered a fracture in his finger. But now that Patel is set to return, Jadeja has been forced back into 'rest' mode with no clear message over his limited-overs future.
The allrounder has been out of limited-overs reckoning from the series in Sri Lanka, where Virat Kohli and Co. registered an emphatic win.
Not a match-winner?
Ravindra Jadeja's accuracy and variations make him a potent weapon in Test cricket. Emerging from tag of a 'support bowler' to Ravichandran Ashwin, to beating the ace spinner in taking most wickets against Australia during the Border-Gavaskar Test series earlier this year, Jadeja has, more or less, sealed his spot in the Test side just like Ashwin.
Indian team management is likely have a lot of headache in selecting either of the two in their next overseas Test series -- in South Africa early next year -- if they deide to play only one spinner on pacer-friendly wickets there.
Jadeja, who fell behind in the batting department during the previous Indian home season, showed he can chip in with runs too this season.
However, for a batsman whose last half-century in ODI cricket came three years ago (in 2014 against England at Leeds), it certainly becomes tough to remain in the reckoning. Hardik Pandya, on the other hand, seems to have beaten the competition to become India's premier allrounder in shorter formats.
Leg-spinners in demand
Jadeja travelled with the Indian team to Chennai, Kolkata and Indore for the first three ODIs against Australia but was forced to sit out as the pair of Chinaman bowler Kuldeep Yadav and leggie Yuzvendra Chahal took centre stage.
After showing promise in Sri Lanka, Yadav and Chahal have claimed 13 wickets between them in three matches against Australia and the visiting side's batting frailties promise them more success. Kuldeep even registered a hat-trick.
The induction of specialised, and more importantly, successful leg-spinners in the team is perhaps the last straw for Jadeja as his skill-set as a bowler (leg-spin) is suddenly not that important for India anymore. Virat Kohli's side is more than happy with the current pair, and if Kuldeep and Chahal continue to win matches, there could come a time when Jadeja, and even Ashwin, might just be retained exclusively for Test cricket.
Problem of plenty
Selectors use a common jargon, 'you are in our plans', when they drop a player. But seldom do they live up to their words. When Gautam Gambhir was shown the exit door the last time, he was made a similar promise. But India turned towards Abhinav Mukund for the Test series in Sri Lanka when there was a vacancy due to Murali Vijay's injury.
While no such promise has been made to Jadeja, a great deal of confusion prevails over India's two ace spinners. Ashwin, who was also desribed as 'resting' by India's chief selector MSK Prasad in a BCCI press release, was playing County cricket in England. This makes us wonder if it is right for a player, who is excused from national duties to rest, to play in other tournaments.
And then comes the more serious question of using the spinners the best way possible. India is going through a purple patch and is also enjoying a problem of plenty in the spin department. If the selectors and the Indian cricket think-tank don't make the right choice -- making sure the available good talent is used the right way -- they might end up turning the strength into a weakness in no time!
(The views expressed by the author are personal)