A Muslim BJP candidate in Gujarat? State waits to know
Updated on Oct 17, 2012 12:00 PM IST
The BJP has been ruling Gujarat interrupted since 1998 but it hasn't had a Muslim minister in the state cabinet since then. The party hasn't fielded a Muslim candidate in assembly elections since 1995. Will the party keep them out in this time too, asks Mahesh Langa.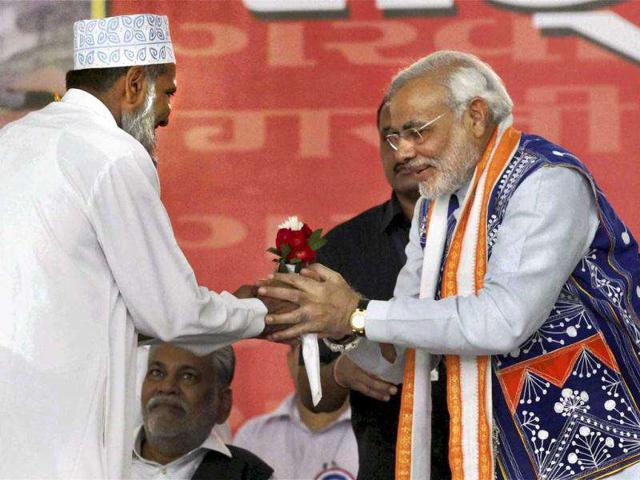 From next week, the Gujarat BJP will formally start the process of selecting candidates for the 182 Assembly segments which will go to polls in December. Chief Minister Narendra Modi will personally select each candidate as he did the last time in 2007.
However, what remains to be seen is whether any Muslim will figure in the list of party's list of 182 candidates. As much as 9.5% of the state's population is Muslim.
When the BJP's central parliamentary board met to decide the candidates for Gujarat polls in 2007, party leader Shahnawaz Hussain had implored Modi to field at least one token Muslim candidate from the state.
"We don't need tokenism in Gujarat," Modi reportedly snapped at Hussain in response.
The BJP has been ruling Gujarat interrupted since 1998 and since then it hasn't had a Muslim minister in the state cabinet. The BJP won assembly polls in 1995, 1998, 2002 and 2007 and in all these polls it didn't find even one Muslim to be qualified as a candidate.
So almost 10% population of the state from a community remains without any ministerial representation in the government. Never perhaps in the history of any state in India has the ruling dispensation shown such utter disregard for a community as the BJP has under Modi.

There are at least 20 assembly seats where Muslims are dominant with over 30,000 votes but their statistical importance has so far failed to impress the chief minister, under whose stewardship over 12,00 people were killed in the ghastly communal riots of 2002.
Kutch, Ahmedabad and Bharuch have three districts where Muslims form almost 20% of the total population and in at least 10 seats here they are force to reckon with.
I often wonder what does Modi mean when he repeatedly says that his government "works for six crore people of the state and his governance is meant for inclusive development".
Modi is indeed an astute politician who knows the collective importance of even a small community of Hindus. He selects candidates based on caste and social equations at the local level but when it comes to the M factor his attitude seems extremely disturbing to anyone who wants religious and cultural pluralism get reflected in the political process of the state.

It is easier to talk about sadbhavna but very difficult to practice politics which is plural and diverse accommodating all communities and people from all walks of life. It is in this test that Modi has failed miserably.

By consistently denying party ticket to even one person of the Muslim community what Modi shows is that they don't exist in his scheme of things. It's like not recognising the existence of almost 5.5 million people in the state.

So, here is a chief minister who is hailed as role model of governance and development but whose track record in practicing inclusive politics is highly questionable.

I genuinely hope that Modi, who is increasingly being looked upon as potential prime ministerial candidate, will this time correct the major anomaly of not fielding any Muslim candidate in the assembly polls.
(The writer is Hindustan Times' special correspondent in Gujarat. The views expressed are personal.)