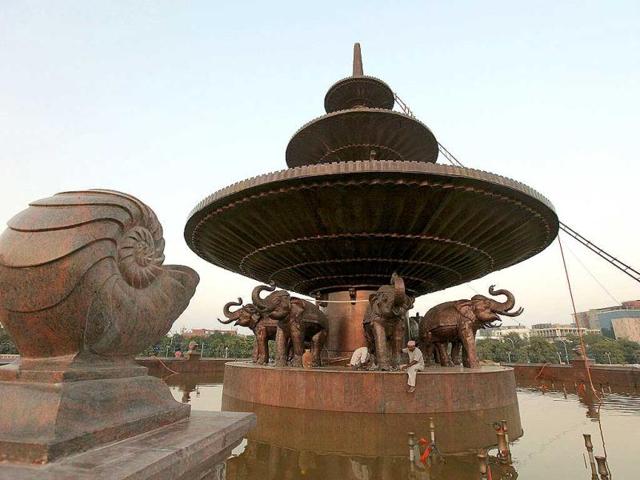 A stone age dawns
Mayawati statues will stay in Mulayamland. This could signal the creation of a grand theme park called UP.
UPDATED ON MAR 13, 2012 08:16 PM IST
Uttar Pradesh went to sleep on Tuesday night wondering about what new changes would be brought about in the state under a newly elected dispensation. Somewhere in that roster of thoughts there was the rather tantalising question about the future of the statues of outgoing chief minister Mayawati that were erected by Mayawati during Mayawati's term as chief minister.

If the last sentence sounded unnecessarily repetitive, imagine the irritation of the incoming government when it finds Mayawati's statues repeated across UP. But in one of the first decisions by the SP in its new role as ruling party, Akhilesh Yadav has stated that none of the memorial parks or statues of Dalit leaders, including Mayawati, will be razed. There is still speculation, though, on what will be done to them.

Mr Yadav knows the value of letting things be. Or more pertinently, not falling for the trap of disposing off the Mayawati statues in Lucknow and Noida. Taking them down could be read as an attack on the Dalit community in general. It would perhaps be better to try out a few other strategies. The statues could remain there without being scrubbed or polished, nature and birds playing their role to underline the fact that Mayawati's legacy has been left to gather dust. Another option could be to build slightly bigger scaled statues of Mulayam Singh Yadav. This serves the dual purpose of showcasing the SP leader's power as well as diminishing that of Mayawati's by an unsubtle method of comparisons.
History tells us that the first thing undertaken by invaders who settled down to rule parts of India was to destroy the kingdom's temple or mosque and build a place of worship pertaining to the conqueror's faith. But in the case of UP today, neither the victorious party nor the vanquished party are conquistadores from Delhi. Perhaps the Mayawati statues and possible Mulayam ones will serve as a symbol for future generations of how similar the two warring parties were despite the much-touted differences.
Close