AAP membership crosses 1 crore mark
As many as 98 lakh people from all over India have joined the Aam Aadmi Party (AAP), senior party leader Gopal Rai said today. The membership drive will continue till the Lok Sabha elections. No govt has achieved what AAP has in a month: Kejriwal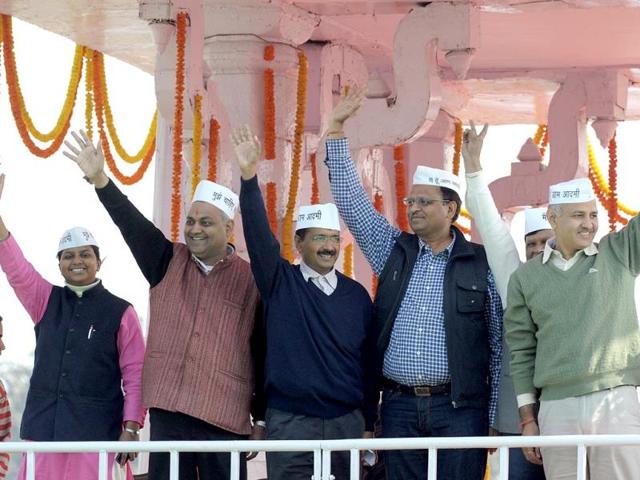 Updated on Jan 28, 2014 01:51 AM IST
The Aam Aadmi Party (AAP) has claimed that its membership has crossed the one-crore mark with 98.46 lakh new members joining the party in just three weeks.
The party that had around seven lakh members before January 10, the day it launched the free membership drive, 'Main Bhi Aam Aadmi' gained 98.46 lakh members by January 26.
"Our total membership stands at one crore and five lakh," Gopal Rai, senior party leader said. The party said it had received maximum number of members from rural areas.
"Out of 98.46 lakh new members, 75.98 lakh are from the rural areas. This proves that AAP is an all-India party and not limited to urban centres as alleged," Rai said.
Looking at the positive response to its free membership drive, the party has decided it to extend it till the Lok Sabha elections.
According to the party 7.42 lakh members joined through its door-to-door campaign, 5.26 lakh by sending SMSs and 10 lakh through the 'missed call' service.
The party had launched a free membership drive on January 10 with a target of getting one crore members by January 26.
The party got maximum numbers from Uttar Pradesh with 18.40 lakh members followed by Bihar (11.45 lakh), Delhi (8 lakh), Haryana (8 lakh), Punjab (5.5 lakh). The least number of membership came from Kerala (65,000), Andhra Pradesh (30,000), West Bengal (20,000), Himachal Pradesh (17,516) and Goa (8,000).
The party is yet to open its account in the north eastern states.
Close Story