BRICS summit: PM Modi leaves for Brazil, also to meet Latin leaders
Prime Minister Narendra Modi will leave from New Delhi on Sunday for Brazil to attend the five-nation summit of BRICS nations on July 14 and 15 which is expected to finalise the setting up of a development bank.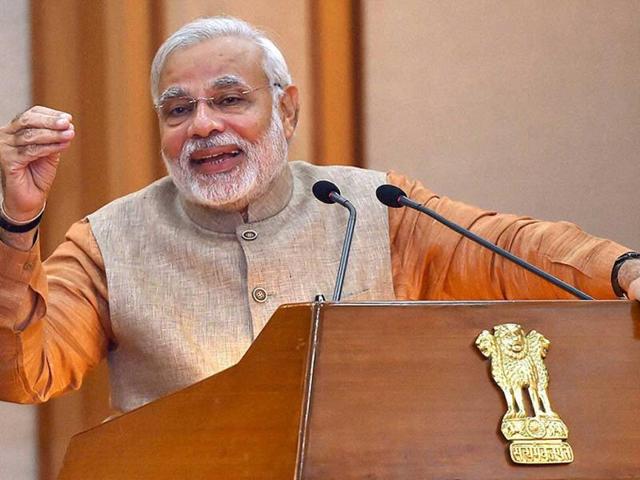 Updated on Jul 13, 2014 12:52 AM IST
Prime Minister Narendra Modi leaves for Brazil on Sunday to attend the 6th Brics summit of the emerging economies of Brazil, Russia, India, China and South Africa. On the sidelines of the summit, which will be held on July 15 and 16, the PM will also meet leaders of other Latin American nations.
The summit, which will be held in Fortaleza, will address political, economic and financial issues and challenges.
Apart from his meetings with all Brics leaders, including Russian president Vladimir Putin and Chinese president Xi Jinping, Modi will meet the heads of governments of as many as 11 countries. Argentina, Bolivia, Chile, Colombia, Ecuador, Guyana, Paraguay, Peru, Suriname, Uruguay and Venezuela make the 11 countries.
Read: Move to invite Modi to address US Congress gains momentum
Ahead of the PM's visit to Brazil, the external affairs ministry, on Saturday, included Spanish to the list of languages in which the ministry's website is now available. So far, the website was so far available in English, Hindi and Urdu. This is indicative of the government's intent to go beyond Europe, Asia and the US to forge diplomatic and trade ties with Latin American nations.
It is rare for the Indian PM to get to interact with Latin American leaders. Although there are various summits where PMs get together with leaders from Asia, Europe, and Africa, there is no platform or forum that brings Indian and Latin American leaders together. Modi has got that chance.

Read: Modi off to Brazil for five days, won't leave a No. 2
The Brics summit, which accounts for more than a quarter of the world's landmass, 40% of its population and a combined GDP of $24 trillion, is the first multilateral event Modi will be taking part in after taking over as PM.
A Brics bank and a fund to fend off currency and balance of payment crisis — Contingent Reserve Arrangement — will be rolled out during the summit. However, discussions have gone down to the wire to decide on the contours of the Brics bank.
Close Story