Burning of Dalit family: Ballabgarh has history of caste violence
Oct 21, 2015 12:11 PM IST
Ballabhgarh, where two children were burnt alive in alleged caste violence, has a history of violence between the Dalits and Rajputs.
No amount of compensation or consolation will bring back my children, says Jitender Kumar, whose two children were burnt alive in alleged caste violence in Sunperh village on Tuesday.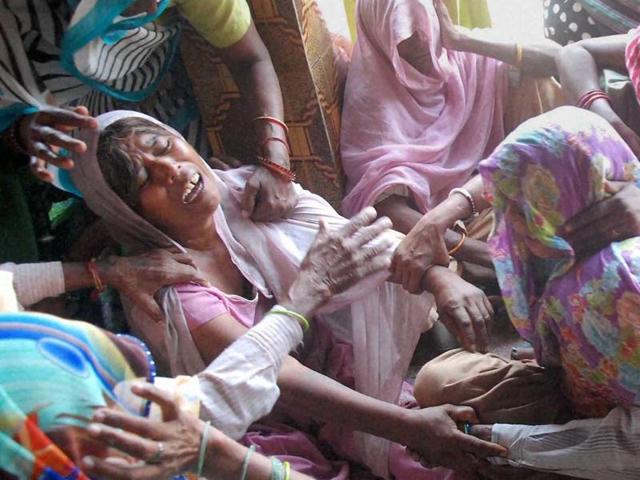 Two-and-half-year old Vaibhav and his 9-month-old sister Divya died after upper caste men allegedly poured petrol from the window and set the house ablaze while the family was sleeping inside their home around 2:30am on Tuesday in Sunperh village, bordering Delhi.
Their mother Rekha, 28, suffered serious burn injuries. Jitender, 31, too suffered burns while trying to save his family.
According to Jitender, the Rajput community could not digest the election of Jagamal Singh, a Dalit, as the Sarpanch of the village. He claimed that to avenge their 'defeat' in the polls, the Rajputs framed Jagmal and 10 other Dalits in a case and had them sent to jail.
Earlier in June this year, one person was killed and 12 others injured in a caste clash.
Jitender told HT that ever since that incident he would not step out of his house except for work. He works as an assistant at a medical store in Ballabgarh. "I used to keep myself locked in my house as I was feared for my and my family's life," said Jitender. "They have succeeded in their mission," he said, squarely blaming the Rajput community for the incident.
The father of two victims accused Safdarjung Hospital staff for delay in admitting his children. "The hospital authorities reacted 15 minutes too late," he claimed.
Jitender's relatives claimed that they had alerted the police after a minor clash on October 6 but the police took it lightly. "I shifted to Delhi after last year's incident. I rarely visit this village now," said Hukum Singh, relative of Jitender.
The police have booked 11 people in the case under various sections of the IPC and SC/ST Act. The victims' relatives, however, also demanded action against the policemen for inaction.
"We will not cremate bodies of the children till a case is registered against the guilty police personnel," said Anil Baba, president of the Haryana unit of the Republican Party of India.
The Rajputs, however, rejected the charges and said "internal family feud" led to the incident.
Ballabhgarh has a history of violence between the Dalits and Rajputs.
In April 2013, a 400-strong mob of the Ror community launched an attack on Dalits. Over 200 Dalit families fled the Pabnawa village in Kaithal district to escape the attack. Their houses were allegedly looted and women humiliated. The attack was triggered by the marriage of a Dalit boy with a Ror community girl.
The year 2011 saw the merciless killing of Dalits by Jats in Mirchpur village in Narnaund, a sub district of Hisar. A physically challenged girl and her septuagenarian Dalit father were charred to death by the Jat community. The houses of about 15 dalits were burnt and the victims had to flee.
According to the Socio Economic Caste Census 2011, Haryana has 22.89% Scheduled Castes (SC), while Faridabad has 19.93% SCs.
Haryana chief minister condemned Tuesday's incident and announced compensation for the family. Former CM Bhupinder Singh Hooda met the family and assured all help.
CPI(M) leader Sitaram Yechury said the Centre should own up responsibility to curb incidents emanating out of "communal sentiments and caste-based hatred. Underlining that though law and order is responsibility of state governments, he insisted Centre must play its role in cases of violence involving Dalits, adivasis and women.
Also read: 2 children of Dalit family burnt alive, parents injured in Faridabad