2 children of Dalit family burnt alive, parents injured in Faridabad
Oct 21, 2015 10:31 AM IST
Two children of a Dalit family were burnt alive and their parents injured when some members of the Rajput community allegedly set fire to their home in Faridabad district.
A nine-month-old girl and her toddler brother from a Dalit family were burnt alive in Faridabad after their house was set on fire early on Tuesday, allegedly by upper-caste Rajput men over a long-standing caste feud, triggering tensions in the area.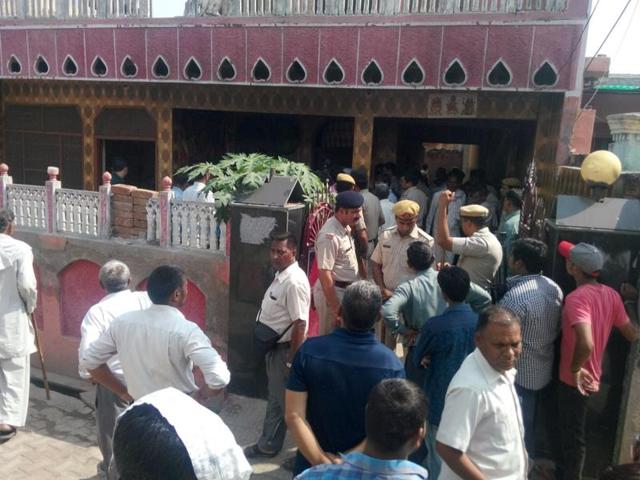 Jitender Kumar, the victims' father, said over half a dozen Rajput men barged into their house at 3am, poured petrol through a window inside the room where he and his wife were sleeping with the two children, and set it ablaze.
Stay tuned with breaking news on HT Channel on Facebook.
Join Now
The ensuing fire charred to death Divya and her two-and-a-half-year-old brother, Vaibhav, the latest in a string of similar caste-related atrocities in the country.
The parents also suffered injuries and doctors said the 25-year-old mother's condition was critical while Jitender suffered burns on his hands.
"The mother has been admitted to the intensive care unit. She had suffered 25% burns and is in a critical condition. However, there are chances that she will recover," said Dr Poonam Dhanda, spokesperson for Safdarjung Hospital. The rest of the family was away at a Jagran and rushed to the house when they heard the victims' cries.
By evening, police arrested three people and the government announced a compensation of Rs10 lakh, in an effort to calm inflamed passions.
As hundreds of people and political workers descended on the small Ballabhgarh town, several police contingents were deployed in the area, the second time this year after hundreds of Muslims were driven away from their homes in riots in Atalli village in May.
Union home minister Rajnath Singh spoke to Haryana chief minister Manohar Lal Khattar and asked him to ensure such incidents didn't happen again. The home ministry sought a factual report from the state administration as Khattar expressed shock and grief over the incident.
Officials said the incident could be a continuation of a long-standing caste dispute in the area, which peaked last year with the murder of three Rajputs, a case in which 11 Dalit people have been arrested.
"The community members who were the victim last year are the accused now. The victims in today's case have named some people and we have registered a case against them," said Subhash Yadav, the commissioner of police of Faridabad. He said seven policemen deployed in the village have been suspended.
Local administration has ordered a probe to find out how such an incident occurred despite heightened security in the area. The victims' family alleged they were being constantly threatened by the Rajputs but the police did nothing despite several complaints against the accused.
India banned caste-based discrimination in its Constitution but such atrocities continue unabated against the 20-crore-strong Dalit community in several parts of the country. Historically oppressed by upper-caste communities, the Dalits allege crimes committed against them are considered a low priority by police and the administration.
Earlier this month, a 90-year-old Dalit man was hacked with an axe and burnt alive when he tried to enter a temple in Uttar Pradesh. Days later, a Dalit family in Greater Noida's Dankaur allegedly stripped naked after the police and administration did nothing to stop harassment at the hands of a upper-caste family, which reportedly had encroached on their land.