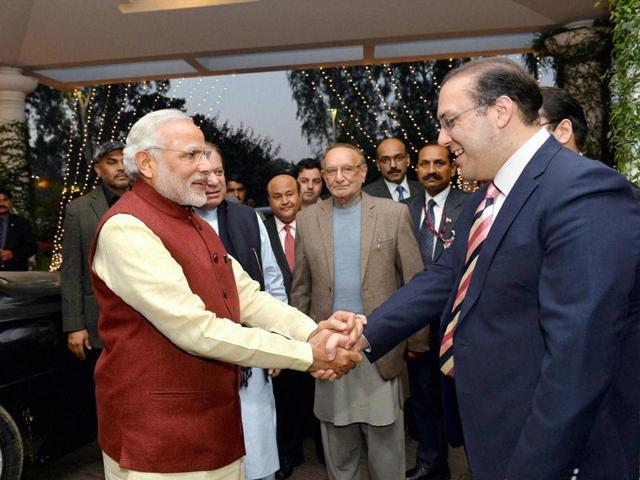 How surprise plays its role in Modi's Pakistan policy
All that it took was 22 words for Narendra Modi to spring the surprise that he would be visiting Pakistan
UPDATED ON DEC 26, 2015 12:22 PM IST
All that it took was 22 words for Narendra Modi to spring the surprise that he would be visiting Pakistan. With the message coming from the Prime Minister's own Twitter handle, most did not have a clue that Modi would become the first PM since Atal Bihari Vajpayee to visit Pakistan, after the now-ailing statesman travelled to the neighbouring nation for the 2004 SAARC Summit.
Modi's visit to Lahore also happened to coincide with Nawaz Sharif's 66 birthday.
Modi's announcement, which was sent out from Kabul, came after the PM, in a veiled attack on Islamabad, said before Afghan lawmakers that their country would succeed "only when terrorism no longer flows from across the border".
For all his flip-flops, Modi's Pakistan policy has remained uncharacteristic. Save the script going terribly wrong in this high-risk game, surprise is lately proving to be a crucial part in the government's Pakistan policy.
Former foreign secretary Salman Haidar, who mid-wifed the India-Pakistan composite dialogue, supported Modi using surprise as a key element of his Pakistan policy. "The Prime Minister should spell out what his Pakistan policy is, but he need not reveal his tactics... The excessive media glare too didn't help the ties improving in the past. And the Prime Minister is using surprise as a tactic, which is working fine," he told HT.
BJP leader Ram Madhav argued that it is time that the two countries brought 'informality' into their ties. "PM Modi's sudden stopover at Lahore to greet Pakistan PM Nawaz Sharif is a much needed departure from protocol-driven politics between the two countries," he said.
Meanwhile, Swaraj commented on Modi's trip to Pakistan with a tweet; "That's like a statesman. Padosi se aise hi rishte hone chahiyen (One should have this kind of a relationship with neighbours)."
That says it all — wait for surprises.
Close