'Kiss of Love' to protest moral policing in Kerala
Updated on Oct 30, 2014 11:12 AM IST
To express freedom of love in the wake of attack against a coffee shop in Kozhikode last week by BJP youth wing activists alleging immoral activities, a group of youngsters have decided to observe a 'kiss day' in port city Kochi on November 2 putting the police in a bind.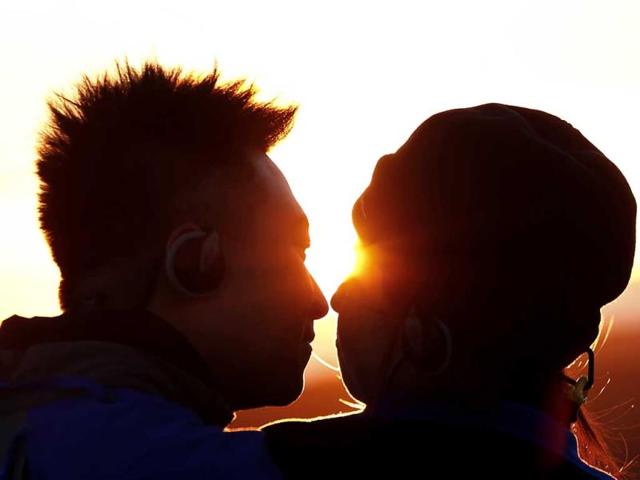 Hindustan Times |
, Kochi
Ramesh Babu K C
Protesters on Wednesday tore up posters promoting a mass-kissing campaign in Kerala's port city of Kochi, saying it was against India's traditional culture.
A group of netizens had announced plans to hold the "Kiss of Love" drive on November 2 to protest against moral policing by right-wing groups.
The campaign was launched on social media after a coffee shop in north Kerala's Kozhikode city was vandalised last week by a group of people who criticised the public display of affection by some couples there.
The attack came after a news channel owned by a political party carried a report on October 23 with visuals of "immoral activities" allegedly taking place at the establishment, showing young couples kissing and embracing.
"Moral policing is a criminal activity. Most political parties and religious organisations try to do that. A group of young bloods join their hands together to prove to society that the kiss is the symbol of love," says the Facebook page of the campaign that has already received over 10,000 likes.
According to reports, the posters were torn up by a group of men who did not specify whether they belonged to or supported a political group.
Police have denied permission for the event scheduled to be held at the Marine Drive where couples have been invited at 5pm on Sunday.
"We can't prevent people from assembling. But if it creates a law and order problem and traffic snarls, we will arrest and remove them from the spot," said Kochi deputy commissioner of police Nishanthini.
The Vishwa Hindu Parishad (VHP) and Yuva Morcha – the BJP's youth wing – said they would not disrupt the function.
The organisers said their aim was not to target any political party or group but to draw attention to the fact that it was not acceptable to disrupt someone's privacy citing flimsy moral reasons.
"Criminalisation of affection and love is really bad. The attack against the coffee shop was just a trigger. Sadly this tendency is growing everywhere," said S Rahul, one of the organisers.
The event is reminiscent of the 2009 Pink Chaddi Campaign in Mangalore where hundreds of people sent pink underwear on Valentine's Day to the office of a right-wing group that allegedly attacked some women at a pub.
The event planners said they may conduct such drives in other cities after gauging the success of their first attempt. While some Bengaluru-based software professionals said they would drive down to Kochi to participate in the event, the LGBT (lesbians, gays, bi-sexual and transgender) community, too, has pledged its support.
The organisers expect at least 10,000 couples to be present at the mass-kissing programme.
"Lovers will kiss each other. We want to send a strong signal to the moral police that violence can't overcome love," Rahul said.
(With agency inputs)
Personalise your news feed. Follow trending topics