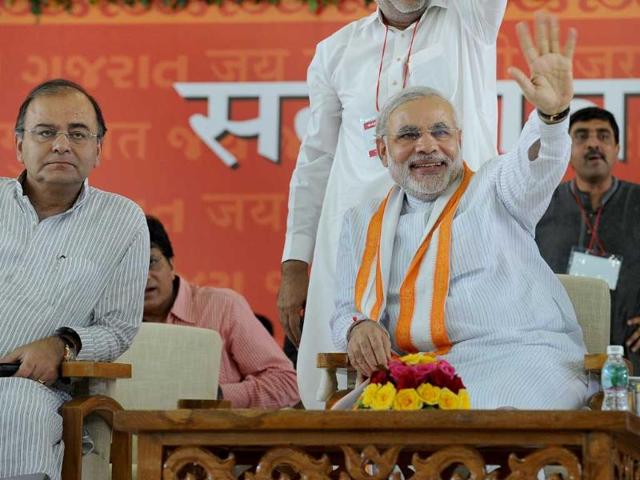 Modi faces rebels in Bihar, so do Lalu and Nitish
Narendra Modi, Lalu Prasad and Nitish Kumar are big ticket politicians – each a serving or former chief minister and each nursing an acknowledged ambition to be India's prime minister. Lalu rushes daughter Misa to Delhi to pacify Ram Kripal Yadav
Hindustan Times | By Rai Atul Krishna and Anirban Guha Roy
, Patna
UPDATED ON MAR 08, 2014 12:01 AM IST
Narendra Modi, Lalu Prasad and Nitish Kumar are big ticket politicians – each a serving or former chief minister and each nursing an acknowledged ambition to be India's prime minister.
But, on Friday, none of the three names proved sufficiently awe-inspiring to dissuade rebellion or potential revolt in the BJP, RJD and JD (U), respectively, the party each of the three calls virtually all the shots in.
The BJP national leadership's decision on Friday to induct Sushil Kumar Singh, the expelled JD (U) MP from Aurangabad in south central Bihar, in which prior concurrence of the state leadership was not obtained, drew a sharp reaction.

Read: Lalu rushes daughter Misa to Delhi to pacify Ram Kripal Yadav
The party MLA from Aurangabad, Ramadhar Singh, said Sushil was his sworn enemy and he would never accept him as the BJP Lok Sabha nominee from Aurangabad.
"If asked, I'll work for the party in another constituency. Or else, I'll take leave from politics and spend my time doing bhajan kirtan", said Ramadhar, who himself wanted to be the BJP nominee for the Aurangabad Lok Sabha seat.
Another discordant note of the day for the BJP came from Achchutanand, the party MLA from Mahnar, who said he was ready to contest the Vaishali Lok Sabha seat "to save the people from somebody who had made their life hell".
He said he was referring to Rama Singh, an associate of LJP leader Ram Vilas Paswan, who was widely expected to be his nominee for the Vaishali seat, which the BJP has conceded to Paswan in a recent Lok Sabha seat sharing agreement.

Read: A Yadav dilemma in Bihar: support Lalu or Narendra Modi
Read: Modi reaches out to Lalu, signals shift in Bihar politics
"When the RSS founders spoke of cultural nationalism, was it this kind of politics that they had in mind?" asked Achchutanand, an RSS veteran who had defeated Rama Singh to win the Mahnar seat in the 2010 assembly poll.
The Vaishali seat is represented in the present Lok Sabha by former union minister Raghuvansh Prasad Singh of the RJD. He has already been declared as the party nominee for Vaishali in the coming Lok Sabha poll.
Also seemingly ready to take on the BJP leadership was Janardan Singh Sigriwal, the party MLA from Chapra, who told HT he was ready to be the BJP nominee for the Maharajganj Lok Sabha.
Sigriwal said he was absolutely ready to take on sitting RJD MP Prabhunath Singh in Maharajganj, adding he would be "very pained" if denied. But the BJP leadership apparently has another in mind.
Read: Bihar changing: why parties can't bet on caste now
"As of now it seems the BJP leadership is ready to Manoranjan Singh aka Dhumal Singh, the JD U) MLA from Ekma as its Maharajganj nominee", confided a senior BJP leader.
He admitted that Dhumal was facing many serious criminal cases. "But we may prefer him for his ability to match Prabhunath Singh's strong arms tactics", he added.
Reached for a reaction, Bihar BJP president Mangal Pandey said: "The decision of the BJP central leadership in any matter is supreme".

Nitish's headaches

Rebellion reared its head in Nitish's JD (U) on Friday when Annu Shukla, the party's MLA from Lalganj in north Bihar declared herself as a nominee for the Vaishali seat "irrespective of whether or I am named the party's official nominee".
Annu, wife of incarcerated former MLA Vijay Kumar Shukla aka Munna Shukla, said she had her own identity among the people of Vaishali, independent of the party.
In Khagaria, Ranvir Yadav, husband of JD (U) sitting MLA Poonam Devi Yadav, declared he and his legislator wife would campaign for the candidate of Lalu Prasad led RJD instead of the JD (U) nominee.

Read: Modi calls Nitish a hypocrite, says Bihar a terrorist haven
Ranvir, an ex-MLA who served jail term in a case of mass murder, had received lavish praise from Nitish last year when he had brandished a stick and a police carbine to drive away protestors blocking the chief minister's path in Khagaria.
He had earlier announced his wife would contest the Khagaria Lok Sabha poll herself.

RJD woes

Also on Friday, RJD national secretary general Ram Kripal Yadav, party's second highest leader by designation after president Lalu Prasad, was confabulating with the BJP leadership for a possible saffron side crossover.
Ram, a long time BJP baiter and a two term Lok Sabha MP from Patna, appeared ready to embrace all things saffron after his party chief named Misa Bharati, his eldest daughter as RJD nominee for the Pataliputra Lok Sabha seat.
Ram wanted to be the party's nominee for the seat and disappointment had apparently driven him into the arms of 'enemy'. But his exit from the RJD still remained steeped in doubt for two reasons.
Read: Son-rise in Bihar: Plans to capture Bihar's political space split RJD, LJP
BJP sources said it was difficult for the party leadership to offer Pataliputra, which traverses the rural areas of Patna district, to Ram as it has already committed the seat to RJD MLC Naval Kishore Yadav, who was inducted into the party recently.
Besides, there was talk of the RJD leadership offering another Lok Sabha seat to Ram, possibly, Madhepura, a Yadav fiefdom represented in the present Lok Sabha by JD (U) president Sharad Yadav.
Also breathing fire on Friday was Ghulam Ghaus, leader of the RJD legislature party in the Bihar legislative council. "I'll be an independent candidate for the West Champaran Lok Sabha seat", he vowed.
If he carries out the threat, Ghaus will be pitted against RJD official nominee, former minister Raghunath Jha, film director Prakash Jha (JD-U) and Sanjay Jaiswal (BJP-sitting), among others.
Close