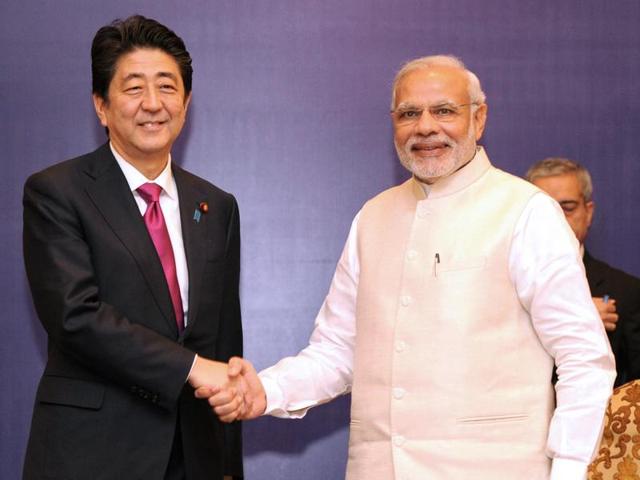 India has become very attractive investment destination for Japan: Abe
Later in the day, Modi and Abe are expected to discuss deals covering high-speed rail, defence and civilian nuclear technology.
UPDATED ON DEC 12, 2015 12:15 PM IST
Prime Minister Narendra Modi on Saturday said the 'Make in India' initiative has become a movement in Japan and the island nation has created a fund of about $12 billion for it.
"Today, there is a 'Make In India' movement in Japan. I have been told that $11-12 billion fund has been earmarked for it. This clearly indicates how both the countries can move forward," he said while addressing the India-Japan Business Leaders Forum in New Delhi.
'Make in India' is proceeding in mission mode, not just in India, but also in Japan, he added.
Modi also said that for the first time Japan will import cars from India.
"Maruti (Suzuki) will manufacture here... Japanese company will manufacture here and export it to Japan," he said, adding that both India and Japan should move ahead together, not just in the sphere of high-speed trains, but also for "high-speed growth."
Recalling his last visit to the country, Modi said Japan committed an investment of $35 billion.
"The figure had surprised many at that time, but today, within a short time-span, unimaginable progress had been made, and the contours of this investment were beginning to get visible on the ground," he said.
Highlighting the improvement in economic indicators in both India and Japan, he said these were extremely encouraging, especially in the light of the global economic slowdown.
"It is clear that India is a land of possibilities," he added.
Praising Modi's reforms programme, Japanese Prime Minister Shinzo Abe said, "Prime Minister Modi's speed of implementing policies and reforms is like Shinkansen (bullet train) and his reform agenda is as safe as Shinkansen."
Abe also said that India has become a very attractive investment destination for Japan.
Later in the day, Modi and Abe are expected to discuss deals covering high-speed rail, defence and civilian nuclear technology.
The two countries are seeking to take advantage of that friendship, formed partly over their mutual desire to counter regional rival China's growing influence, during Abe's two-day visit.
Abe, who arrived in the capital on Friday for a three day visit, invited Indian companies to invest in Japan. Addressing the industry captains, Abe said "I want you, the representatives of the Indian industry to come and invest in Japan."
Hours after he arrived, external affairs minister Sushma Swaraj called on Abe during which a host of issues of mutual interest figured.
Welcoming Abe, Modi described him as a "phenomenal leader" and said his trip will further deepen the bilateral relations.
"Welcome to India @AbeShinzo. Your visit will provide new strength and vigour to India-Japan ties," Modi tweeted.
After the talks, he will leave for Varanasi, Modi's Parliamentary constituency, where he will attend the famous Ganga aarti at the Dasaswamedh Ghat.
Modi will accompany Abe during his nearly four-and-a-half- hour-long visit to Varanasi. Abe will return here in the evening and depart on Sunday.
Close